We are in the midst of a second lockdown so my walking in the last few weeks has been restricted to being out with one other person. When I was planning my walking for this week and checking with Lynnie if there were any days I should avoid she asked "When is it my turn to come out walking with you?" So today it is Lynnie's day for a walk!
We start out from the small parking area close to St George's Church, Fovant (SP3 5LA) (Grid Ref: ST996295) and head south along Church Lane to walk back towards the village. On reaching a grass triangle with a bench we turn right into Moor Hill. As the road bends to the right we take a track on the left that soon leads through hedges.
We stay on this track for just over half a mile to the outskirts of the village of Sutton Mandeville. Here we turn right towards the village along a lane, Sutton Hill. At a sign to the church we turn right to make a detour to visit the 13th century church of All Saints. The tower was added to the church in the 15th century and restoration work carried out in 1862. In the churchyard there is an unusual sundial.
Leaving the church we head back to Sutton Hill and turn right to continue along the lane and stay with this to pass Cromwell Manor. At a junction of roads we turn right and follow Lagpond Lane. At the point where this lane turns sharp to the right we take a drove on the left, Hut Lane Path, towards the A30. Hut Lane gets its name because it was the route to Cribbage Hut public house, this is now closed and known as Lancers House.
After crossing the A30 we continue straight on along another track, Buxbury Hollow, which heads towards woodland where it starts a steady ascent up Buxbury Hill. After going through a gate onto access land we continue up the track. At a fork in the path we go left, there are stunning views along the escarpment from here.
Following a grassy track we reach a gate and go through to take a path along the edge of the next field with a fence to our right. This leads to another gate, after going through we join the Old Shaftesbury Drove and turn left. Dating from medieval times this was the main route between Salisbury and Shaftesbury and drovers would lead cattle and livestock along this route. These days it is a popular route for people who gain pleasure from driving their 4X4 vehicles along country tracks, as a result many sections have deep puddles making it necessary to skirt around on the muddy banks.
We stay with the drove, ignoring footpath to the right and left to reach the Fovant Hut. Now a private home this was once the location of an Inn on the drover's route. According to the local history group this inn dates from around 1757 when the landlord was a chap called William Kennell. Apparently there is no record of when it ceased to be a pub, its demise brought on by the turnpiking of the Lower Road (now the A30) in 1787.
After crossing a minor road we pass disused poultry houses on the right and continue along the drove. This section of the route is less rutted and is easy going. We pass the Chiselbury hill fort on our left and stop to admire the contours of Gurston Holes.
At a crossing of footpaths besides a reservoir we go left through a gate, leaving the drove, and head across an arable field.
After crossing a stile we enter Access Land on Compton Down. There are splendid views along the escarpment from here. During World War I the fields below were the location of Army Camps for troops preparing to fight in the conflict.
Our route goes straight down the steep escarpment with an avenue of trees in front of us as our bearing.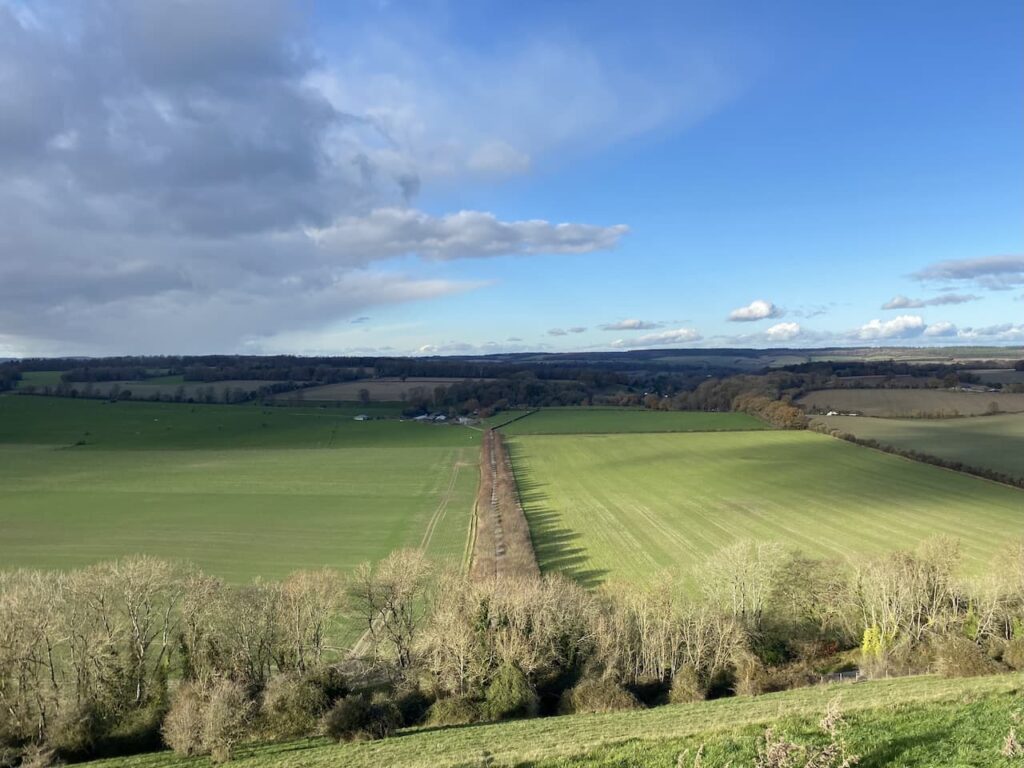 At the foot of the hill we cross a stile and then join the tarmac track between the trees heading towards Manor Farm.
After passing the farm buildings and houses we reach the A30, here we turn right and then soon cross with care to take the road leading into Compton Chamberlayne. As a nipper I recall coming to this village to watch my father play cricket, the ground was tucked in between the lane we are on and the A30. Sadly like so many village cricket clubs this one has folded and the ground is no longer used. As we enter the village we reach the cemetery on our left, this is the location of a number of Commonwealth War Graves.
Reading the names and regiments of those buried here is a poignant reminder of the tragedy of war. Many of these graves are for Australian servicemen. Some of whom, just boys, had joined up to fight and spent months travelling by sea, leaving the Australian summer to arrive in a British winter, sadly their lives were ended by respiratory disease.
Leaving the cemetery we continue through this attractive village to reach St Michael's Church. This church was originally built in the 13th century with additions in later years, in 1877 a major restoration was undertaken paid for by the villagers.
We briefly pop inside to admire its impressive interior.
Leaving the Church we turn right and then almost immediately take a footpath on a track on the left. This leads steadily uphill and becomes a fine sunken track.
As the path levels out it continues besides woodland to reach Home Farm. Here we keep heading west along a farm track, passing barns and then continuing between fields. From here we get a good view of the Fovant Regimental Badges. These were created by soldiers garrisoned in the valley below the Downs during World War I. The first badge was cut in 1916 and a further nineteen badges were created. Of the originals nine remain and further badges have been added to the surrounding downs.
The path now leads along the edge of woodland with a steep slope to our right. On reaching a track, Green Drove, we turn right and head steadily downhill.
At a junction with a road we turn left and walk along the road, Catherine Ford Lane, with military security fencing to our right. As the lane bends to the left we take a footpath on the right and then within a few yards another on the left to head along on the edge of a field with a hedge on our right.
Following the footpath signs we leave the field and enter woodland and descend gradually to reach a bridge over a stream.
The path continues besides the stream and then joins Church Lane where we turn right and return to our starting point. Our walk has covered eleven miles on a cracking November day. There have been showers about but thankfully we have avoided getting wet. As we leave Fovant on the A30 we spot a stunning rainbow so pull into a lay-by to capture the scene.
You can view this 11-mile walk on OS Maps and download the GPX File Here
To follow our walk you will need Ordnance Survey Outdoor Explorer Map 118 Shaftesbury & Cranborne Chase and OS 130 Salisbury & Stonehenge
19th November 2020
© Two Dogs and an Awning (2020)
All information on this site is provided free of charge and in good faith and no liability is accepted in respect of damage, loss or injury which might result from it.  To the best of my knowledge the routes are entirely on public rights of way or within areas that are open for public access.
Walking can be hazardous and is done entirely at your own risk.  It is your responsibility to check your route and navigate using a map and compass.