Our week at Plymptons Farm CL has come to an end and we are on the move. We have been very lucky with our walks whilst staying here; despite all the rain apart from the odd shower we have stayed dry. Unfortunately there has been a lot of rain and the site is still very wet, so we have not seen it at its best. It is a friendly site, Mary has been extremely helpful and we hope to return during a dry period.
With no awning to take down it is not long until we are sorted and off. It is just over an hours drive to our next site located just outside of Appledore in North Devon.

We are soon settled in at Seabreeze CL. It is a cracking setting, adjacent to Northam Burrows Country Park. We had planned to put the awning up but the forecast is for 40mph winds tomorrow, so we decide to leave it a few more days.
The sun is shining so to make the most of the good weather we head out for a walk. We leave the site, turning left to walk along Long Lane. Just after a garage we pick up the coastal path to Appledore.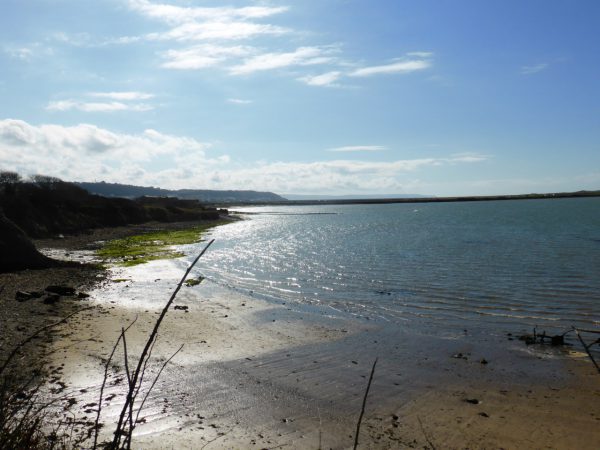 There is a purpose in Lynnie's walking and as we approach the seafront her destination is clear. There waiting for her is a Hocking's Ice Cream van.
If there is one thing that Lynnie's like it is a good ice cream, if there is one thing that Lynnie's like more than anything else it is a Hocking's Ice Cream with clotted cream on top!
I rarely eat ice cream but make an exception for Hockings' it is exceedingly good. Dexter and Crosby wait patiently for the end of the cone, they are clearly focussed and are oblivious to anything else. Ice creams, consumed and shared it is time to get going. We decide to head back towards Northam Burrows so retrace our steps along the coastal path signed to the Burrows.
This is a popular spot for dog walkers; there is a huge area of grassy coastal plain with stunning views out to sea. There is a stiff breeze but with the sun shining it is pleasant walking. We walk out to the pebble bank that provides some protection from the sea.
The Burrows are home to the Royal North Devon Golf Club, they share the land with walkers, dogs, sheep and horses. The average walker will know that being hit by a golf ball is not a good idea, but the sheep seem oblivious and wander where they choose.
Lynnie and Mr Dexter lag behind there are too may photo opportunities, Crosby and I continue and then turn around to see the stragglers running, after a fashion, to catch us up.
We carry on around the Burrows and finally reach Westward Ho! I have previously blogged about the history of this seaside resort. Since last here two years ago there has been further redevelopment. I am not against modern structures, but there are some buildings that frankly would be better not built. There is one that looks like a multi-storey car park, but this turns out to be the back of apartments.
Lynnie knows that there is always a Hocking's Ice Cream van in the centre of Westward Ho!, but opts to pass this one by.
We carry on along the coast and reach Kipling Tors, this was a favourite spot of Lynnie's mum. In her younger days Micki's family lived in Bideford and she met Lynnie's father here. She often talked about the views from Kipling Tors. We sit on a bench admiring the view with her in mind, speculating on what she would make of Westward Ho! town now. It has changed a lot in the near ninety years since Micki first came here, we think she would consider that the change has not been for the better and she is probably right.
Time to wander back to the Coachman, it is getting chilly and it will soon be getting dark. My Suunto Traverse tells us that our jam about from Seabreeze CL has covered almost nine miles. High winds are forecast for tomorrow so time to batten down the hatches!
To view this route in OS Maps Click Here
To follow this walk you will need Ordnance Survey Outdoor Leisure Map Explorer Map 139 – Bideford, Ilfracombe and Barnstaple.
5th April 2016
© Two Dogs and an Awning (2016)