The hot weather has settled in so we have planned another shortish walk today to ensure Crosby is fine. Yesterday afternoon we tried again to walk to Winskill but after a couple of miles he started limping so we abandoned our walk. However, earlier today on his morning walk he was absolutely fine.
The starting point for today's walk is Horton in Ribblesdale. Being a Monday it is relatively quiet in the village and we start our walk by heading through the village to pass the now closed Pen-y-Ghent cafe. At a finger post for the Pennine Way we cross the road and follow a lane passing properties.
At a junction of tracks we turn to the left and follow the track as it gradually goes uphill.
It is a stunning day and this is a cracking path to be walking along. Away to our right Pen-y-Ghent dominates the view.
The track leads us towards the limestone outcrop at Stot Rakes.
Over the wall is Tarn Bar. In the past we have been here during a wet spell and have seen a waterfall flowing here.
After going through a gate at a junction of tracks we go straight on along a grassy footpath toward Foxup.
We have visited Hull Pot on numerous occasions but I never ceased to be amazed by how this huge pot hole suddenly appears. One minute it looks like you are walking along a grassy path leading into the distance and then only a few metres away there is a large chasm in front of you.
There is a trickle of water running into the pot hole, not from the dry river bed above but half way down. We decide to follow the route of Hull Pot Beck to find a spot for lunch.
Initially the river bed is dry and after a couple of hundred metres we reach a point where there is water flowing before it disappears underground.
This is a very pleasant spot to sit for lunch. It gives Crosby a chance to stand in the beck and cool off a bit while we admire the view.
Resuming our walk we continue heading alongside the beck and at a junction of paths turn to the left to head steadily uphill onto Todber Moss.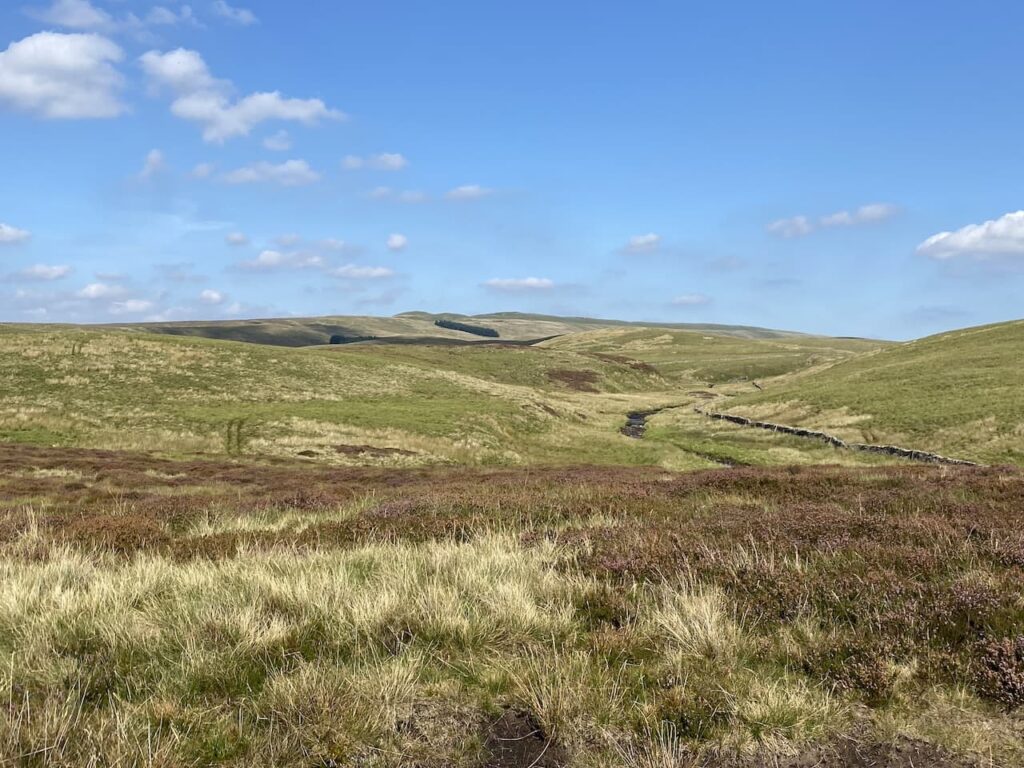 The path now heads across moor land. A number of years ago we headed up onto this moor after a prolonged wet spell and it was extremely boggy. In those days my navigation skills were not as good as they are now and visibility was not great so we made the sensible decision to turn around and head back to the beck.
The ground conditions are good today, and there is a clear path across the moor. However, I still use the map and compass to check we are heading in the right direction.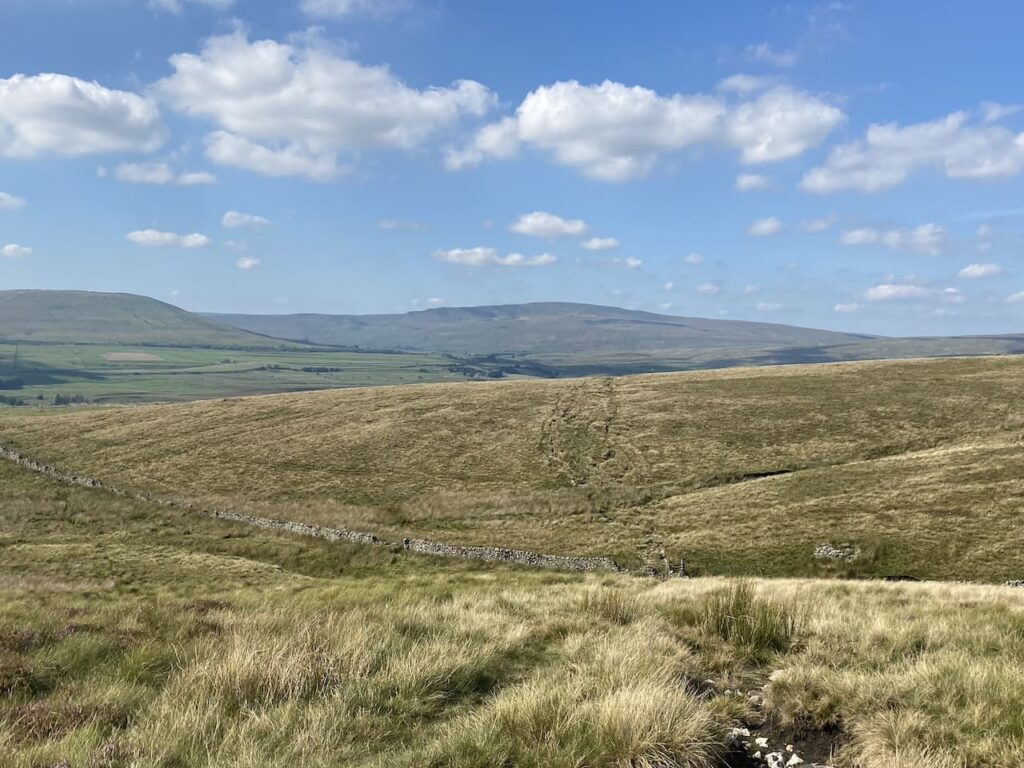 We go through a gate across a stream before continuing over Red Moss.
The path leads us to a junction of paths with the Pennine Way and Yorkshire Three Peaks route. Here we turn left along the track which forms the Pennine Way and the Three Peaks route.
Usually on this section of path you would expect to meet walkers heading in the opposite direction walking the Three Peaks but today with he have it to ourselves.
We reach the point where the Three Peaks path goes to the left. Here we go through a gate still on the route of the Pennine Way and follow the track towards another gate at Sell Gill.
The dry conditions mean there is only a small amount of water in Sell Gill Beck.
The route is now very straightforward we are staying on this track back to Horton in Ribblesdale. We are in no rush so take time to admire the views.
Soon we see the village in front of us as we descend the final section of the track.
After passing the Crown Inn we cross the River Ribble and return to our starting point.
You can view this 6 mile walk on OS Maps and download the GPX File Here
To follow our walk you will need Ordnance Survey Outdoor Explorer – OL2 Yorkshire Dales Southern and Western Areas
4th September 2023
© Two Dogs and an Awning (2023)
All information on this site is provided free of charge and in good faith and no liability is accepted in respect of damage, loss or injury which might result from it. To the best of my knowledge the routes are entirely on public rights of way or within areas that are open for public access.
Walking can be hazardous and is done entirely at your own risk. It is your responsibility to check your route and navigate using a map and compass.