My interest in walking was really ignited in my teens when we used to visit family friends who lived in Eldwick. On occasions I would take myself off for a walk just exploring the local countryside. I did not venture too far, most of the walks were around Shipley Glen and there was the occasional excursion onto the edge of Baildon Moor. I have a faint recollection of walking to a trig point from Eldwick, but up until now have not really thought about where it was.
Whilst studying the map last night I realised the nearest trig to Eldwick is on top of Baildon Hill, so that was probably the one I visited the best part of fifty years ago. Of course in those days I was not bothered about logging trigs or "bagging" them. As we are staying so close to Baildon Moor it makes sense to venture there today.
Our starting point is the car park off Hawksworth Road just to the north of Baildon. Google maps shows this car park as Baildon Trig Point car park, which sounds very promising to me. Starting our walk we follow a path from the car park which heads north and very quickly we reach the trig pillar, this is the 267th I have bagged. Lynnie would like all trigs to be this easy to access.
From the trig we follow a bracken lined path that descends across the hill towards Hawksworth Road. There are fine views with part of Baildon Golf Course on Baildon Hill in front of us.
On reaching Hawksworth Road we cross and follow a footpath sign on the opposite side. This heads in a north westerly direction besides the aptly called Bracken Hill. We ignore other paths to the right and left until we reach the northern edge of the access land, here we take a footpath straight ahead through a narrow gap besides a wall.
The path passes through what appears to be the grounds of an activity centre, although at the moment there is no obvious sign of activity, it joins Sconce Lane where we turn left and follow the lane past Ash House Farm.
The lane continues past smart holiday chalets and then the entrance to Faweather Grange. At a junction of tracks we turn left along Birch Close Lane and head towards Birch Close Farm. Just before we reach the farm we turn right up a tarmac lane to join the route of the Dales High Way, this is a ninety-mile long distance walk from Saltaire to Appleby in Cumbria. I am always on the lookout for new trails to walk and will have to look at this one in more detail.
The path gradually ascends to pass close by Weecher reservoir, this stands behind a high embankment so is not visible, in any case I am more interested in looking for any Ordnance Survey benchmarks on the gate posts we pass. Last year I got into "bagging" benchmarks and used to spend time researching their locations before going out for a walk. Lynnie is pleased that I have now moved onto wild benchmark bagging, this involves no prior research but just the odd glance at a likely location. Wild bagging is far more rewarding and I am soon smiling from ear to ear when I spot the tell-tale chisel marking high on a former gate post.
On reaching a junction with the Otley Road we turn right and walk besides this busy road. Fortunately the verge has been laid with gravel to create a pavement. After a couple of hundred yards we take a way-marked footpath on the left going onto the moor still following the route of the Dales High Way.
As we ascend we look back and get a view over Weecher reservoir. This reservoir was built around the 1880's by the Baildon Water Board, it was reported that in 1910 it recorded having just over 30,000,000 gallons of water in it.
The Dales High Way leads up across a section of moor shown on the map as Low Two Stoops. We pass through a gate and continue on the well-worn path to a junction of paths besides a wall close to the Horncliffe Well. There is a boundary stone in the wall at this point marked "Thos Pulleyn, Horncliffe".
Now we leave the Dales High Way through a gap in the wall to take a footpath that follows the boundary fence. On the other side of the fence is a stone marking the Horncliffe Well. Apparently this well is shown on land records dating back to 1273 and it had the tradition of never drying up. It stands at the meeting point of three moors, Burley, Hawksworth and Bingley. There are records of a house being on the moor in the early 1800's but little evidence remains now. The once free flowing water from the well was diverted into pipes by Yorkshire Water in the 1990's so there is now little evidence of water but the stone marks the historic spot.
We follow the well-defined path with the fence line to our right, this route heads steadily uphill occasionally crossing streams running off the moor. After a dry spell the ground conditions are firm under foot, but I imagine that in the depth of winter it would be very boggy up here. There are further boundary stones on the fence line.
This path is the route of the Bradford Millennium Way which is a 45-mile circuit around Bradford created in 2000 to celebrate the millennium. I can't recall walking any sections of it before, it appears to visit some interesting locations including the Bronte Falls, White Wells and Shipley Glen. The section we are on heads towards a hut on the horizon.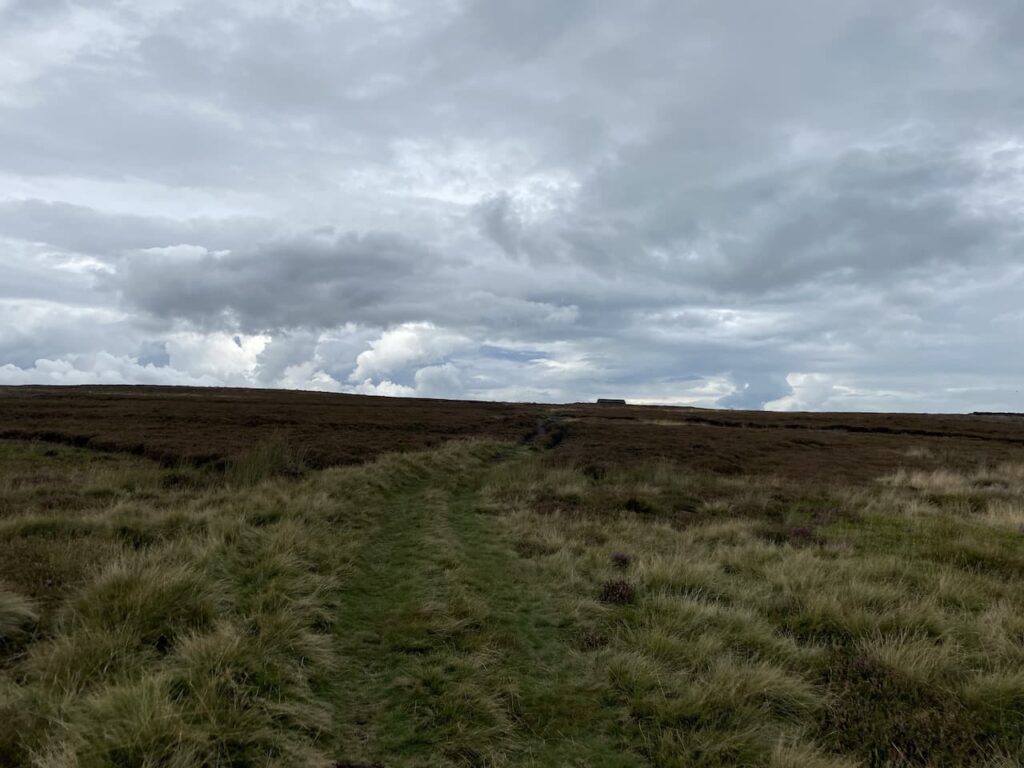 After passing the hut and an outcrop of rocks we continue on to a junction of paths where we turn left to follow a track with views of High Lanshaw Dam. This is the highest of three small reservoirs, apparently they were originally built for Urban District Council, later operated by the Rombalds Water Board and eventually Yorkshire Water.
As we start on the track the beaters for a driven grouse shoot start heading across the moor. I am not a supporter of grouse shooting and watching it take place at close quarters reinforces my view.
At a junction of paths close to the Twelve Apostles we turn left rejoining the Dales High Way this time heading south. The grouse shoot is going on to our right, they are in the final throws of driving the birds to the guns. Frankly how anyone could describe this as sport is beyond me. If individuals feel the need demonstrate their ability with a firearm surely they could shoot at clays.
On our right is an old milestone. At this point the Dales High Way veers off to the left but we continue on a path marked on the map as the Dales Way Link.
After going through a gate we follow a clear track heading south across Bingley Moor. We go over Hog Hill and through Hog Hill Flat where we pass another milestone. This route was part of the pack horse trail between Ilkley and Bingley and would have been a main communication link for hundreds of years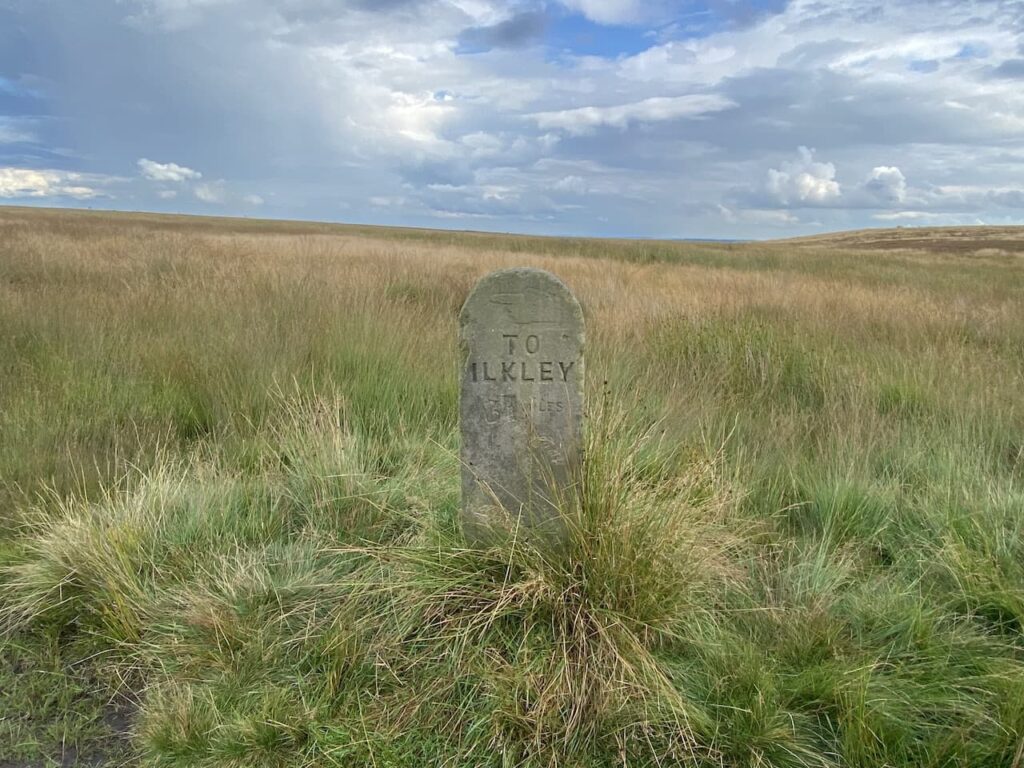 We continue over moorland and then follow the path as it goes between walls descending gradually to the Otley Road and the Dick Hudson pub.
We cross the busy Otley Road and wander around to the front of the pub. It is years since we have been here. It was a pub we used to visit as a family when I was child and over forty years ago, when I took Lynnie on her first trip to Yorkshire, we popped in for a pint. It is tempting to have a sharp'ner for old times' sake, however it is still too early in the day for a drink.
Apparently there has been a pub in this area since the 17th century. The original watering hole known as the Plough Boy was located a bit further along the Otley Road. But when a new road was constructed the license moved to Highgate farmhouse which is the site of the current pub. The pub became known as the Fleece Inn and it 1809 was purchased by Thomas Hudson. After his death in 1850 his son Richard aka 'Dick' took over as landlord and the pub which was popular with workers from the textile mills in Airedale gained the name Dick Hudson's. Dick remained landlord until his death in 1878 but hopefully his name will remain synonymous with this spot for many generations to come.
We have a choice of routes here, both involving walking beside a road, we opt for the Otley Road heading south because it looks a bit quieter, but it is still too busy for comfort. However, there is no other option to link the sections of the Dales Way Link. Therefore, we are relieved to reach the footpath on our left leading up the driveway of Toils Farm. After passing behind the farmhouse we continue on the way-marked path across fields to reach a tarmac lane. After going over a wall stile we turn right on the lane following the Dales Way Link towards Shipley.
On reaching the end of the tarmac driveway we go through a gate and follow the path across fields towards Golcar Farm. After passing the farm the route joins a track leading to the Bingley Road which we cross to take the footpath marked Dales Way Link and Millennium Way. This path leads around barns and continues besides Glovershaw Beck.
The path takes us onto bracken covered moorland where we continue to head south on the Dales Way Link to reach a car park besides Glen Road. We cross the road and follow a pathway uphill towards the caravan site at Dobrudden Farm. It Is clear that this area of access land is well walked and we are chatting away so at a junction of paths I assume the worn route in front of us is the way to go. It does take us up to the caravan site but it is a steep ascent that becomes less clear as we rise.
Reaching the boundary wall of the caravan site we turn right on a clearer path. We stop here to catch our breath and look back over Eldwick.
There are a wide range of paths crossing Baildon Hill, we are aiming for the trig point on the summit so we continue a gradual ascent towards the top. There is a long history of quarrying and coal mining on areas of the hill. These where not the massive mechanised quarries, but small ones used to extract stone for building. We arrive at the summit by a large fenced depression. Later I check the Coal Authorities website and discover that this has only emerged in the last couple of years and has been fenced off because it is the site of old mine workings. The Coal Authorities article records it as some subsidence and movement, I would call it a big hole!
After looking at the subsidence, without getting too close to the edge, we wander over to bag the trig point, this is my 268th. It has been painted white, but there are splashes of red paint around which is a pity. It stands at 925 feet above sea level, this would be a pretty exposed spot on a winter's day. I try to recall if I have been here before, but nothing about this spot sparks a memory.
Close to the trig is a toposcope. We stop to look at points on the horizon, picking out places we have visited, or plan to in the future.
Our route continues along the top of the hill heading east. This path soon descends steeply towards Baildon Golf Course and then goes alongside a couple of holes and the club house. This course was established in 1893 initially as the Bradford Golf Club, but when they moved in 1899 it became known as the Baildon Golf Club. Over the years the original seven hole course was developed into a full eighteen and the clubhouse was moved and then further developed. During the First World War what is the 17th fairway was used as a practice firing range. Then during World War II the course was considered an area of risk as a landing site for enemy gliders so tree trunks were sunk into the ground as a deterrent.
Our route takes us to the Hawksworth Road where we turn left to follow a path besides the road heading back up to the car park on Baildon Common where we started our walk. We have covered just over ten miles, littered with local history. It has been a very enjoyable stroll apart from witnessing the grouse shoot and a short section besides a busy road.
You can view this 10.2 mile walk on OS Maps and download the GPX File Here
To follow this walk you will need Ordnance Survey Explorer Map 297 Lower Wharfdale & Washburn Valley
10th September 2021
© Two Dogs and an Awning (2021)
All information on this site is provided free of charge and in good faith and no liability is accepted in respect of damage, loss or injury which might result from it.  To the best of my knowledge the routes are entirely on public rights of way or within areas that are open for public access.
Walking can be hazardous and is done entirely at your own risk.  It is your responsibility to check your route and navigate using a map and compass.