Our stay at Golden Valley House CL has almost come to an end, we head home tomorrow. So today is our last chance to explore some more of the local area. We have decided to return to Sharpness and do a circular walk visiting the historic town of Berkeley.
Our starting point is once again the Canal and River Trust free car park at Sharpness Viewpoint (GL13 9UF), located besides the entrance to Sharpness Docks. Before starting our walk we stop for lunch on one of the benches at the viewpoint overlooking the River Severn.
Our walk starts along the Severn Way heading south with the river on our right hand side. From the viewpoint we pass a row of cottages and then reach a stile into a field where we walk along the flood defence embankment.
We continue along the flood defence to reach the navigation beacon on Panthurst Farm. A navigation post was established here in 1894 to guide vessels through the narrow channel that had been blasted through Bull Rock. In 1912 a lit beacon was installed and was replaced in 1974. The current beacon was installed in 1987 with the Blue LED light being added in April 2020.
Staying with the flood embankment we cross a stile and continue beside the river with Berkeley Power station in the distance. Construction of this power station started in 1956 and it was commissioned in 1962. It created power for 27 years before being decommissioned in 1987. The process of tidying up the site continues and it will be around 2070 before the radioactivity levels fall low enough for it to be demolished.
On reaching Berkeley Pill the path turns inland besides the side of the inlet. Across the other side of the inlet is another navigation light. This one was installed in 1906 and originally ran on gas. In 1951 the gas was replaced by batteries and then in 1964 it was supplied by electricity from the conveniently located power station next door.
The path goes through a gate and then enters a meadow which we cross heading towards a small industrial estate.
After going through a kissing gate we turn right and follow the path as it passes through shrubland besides the stream. At a road we turn right and cross a bridge over the Berkeley Pill. We stay with this minor road for a few hundred yards to reach a junction where we turn left into Hamfield Lane and follow this past Floodgates Farm and then reach the disused Castle Grain Mill which looks ripe for redevelopment.
After passing the mill the lane leads into Ham and reaches the village besides the Salutation Inn, this pub is a frequent winner of Campaign for Real Ale awards and has its own small brewery attached. It is the sort of pub that I like to visit, but sadly it is currently running restricted opening times due to Covid restrictions.
We turn right to pass the pub and then fork left besides the village green which retains its water pump. Later I discover there is a website dedicated to village pumps. It contains very little detail about this one apart from it being made by Llewellins & James, of Bristol.
Leaving the green we continue on a lane to pass Brownsmill Farm and then at a junction of paths turn left to follow a route besides a stream. In front of us we soon see Berkeley Castle. This is one of the Marches Castles, built to defend the border with Wales and as such was at the centre of many battles. It has been in the ownership of the Berkeley family since it was built in the 11th century and the castle's website talks about the strong association the family had with the monarchy. It was so close that Edward II was murdered at the castle in 1326 whilst being held by Thomas de Berkeley.
The first castle was built in 1067 as a motte and bailey then over time was gradually developed starting with the shell keep being built between 1153 and 1156. In the 14th century most of the rest of the castle was built.
We stay besides the stream and then reach a tree lined path which heads north towards Berkeley.
Th path soon crosses a stile and then joins a pavement besides a road to cross a bridge and head into Berkeley. Heading into Berkeley we pass the house built by Edward Jenner and his brother Stephen Jenner. Edward Jenner gained fame as the person that was at the forefront of immunology and famously discovered a vaccination for smallpox.
We turn right up a lane with a way marker to the Jenner Museum and follow this uphill towards the churchyard to pass the house that Edward Jenner left to James Phipps. As an eight year old Phipps was the first person that Jenner inoculated against smallpox. Jenner observed that dairy workers who had caught Cowpox appeared immune from Smallpox. He therefore inoculated Phipps with Cowpox and then eight weeks later gave him a dose of smallpox without any adverse reaction. Jenner went on to give Phipps more than twenty doses of smallpox. No wonder he left him a cottage!
A bit further on we turn right into the churchyard and take a while reading the information board and plan of the graves. There are a number of interesting graves here not least the tomb of Dicky Pearce. He is said to have been the last court jester. Born in 1665 he was originally the Earl of Suffolk's fool before joining the Berkeley household. As a jester he would have been an accomplished musician and would also have performed sleight of hand tricks and acrobatics. Sadly his acrobatic skills let him down while performing in the minstrels gallery at Berkley Castle and he fell to his death.
He was held in such high regard by Lord Berkeley that he was buried in an elaborate tomb in the churchyard with the inscription "Here lies the Earl of Suffolks Fool, Men called him Dicky Pearce, his folly served to make folks laugh when wit and mirth were scarce. Poor Dick Alas! Is dead and gone, what signifies to cry! Dickys enough are still behind to laugh at by and by."
There is a chap cutting the grass and he points us towards the Clock Makers Grave. This is the chest tomb of Thomas Pearce (also spelt as Pierce on the grave) who died in 1665, he was a clockmaker and five times Mayor of Berkeley. The inscription on the tomb reads "Here lyeth Thomas Peirce, whom no man taught / Yet he in Iron Brasse and Silver wrought / He Jacks and Clocks, and watches (with Art) made / And mended too when others worke did fade / of Berkeley five tymes Mayor this Artist was / And Yet this Mayor this Artist was but Grasse / when his owne watch was Downe on the last Day / He that made watches, had not made A Key / To winde it Up, but Uselesse it must lie / Untill he Rise AGaine no more to die".
This is a fascinating graveyard with numerous chest tombs. We could easily spend more time wandering around but we still have a few miles to cover so take a quick look at the church of St Mary. Most of this church was built between 1225 and 1250.
Unusually the tower for the church stands separately to the main building, this was built in 1753.
From the churchyard we continue along the lane towards the town passing The Chantry, this was Edward Jenner's House from 1785 until his death in 1823. It was from here that he started his vaccinations for smallpox. Over the years he also had homes in London and Cheltenham, but this remained his main residence and is now the home of the Jenner Museum.
We stay with Church Lane and on reaching the High Street turn right. To our right is the impressive looking Berkeley Arms Hotel a former 16th century coaching inn.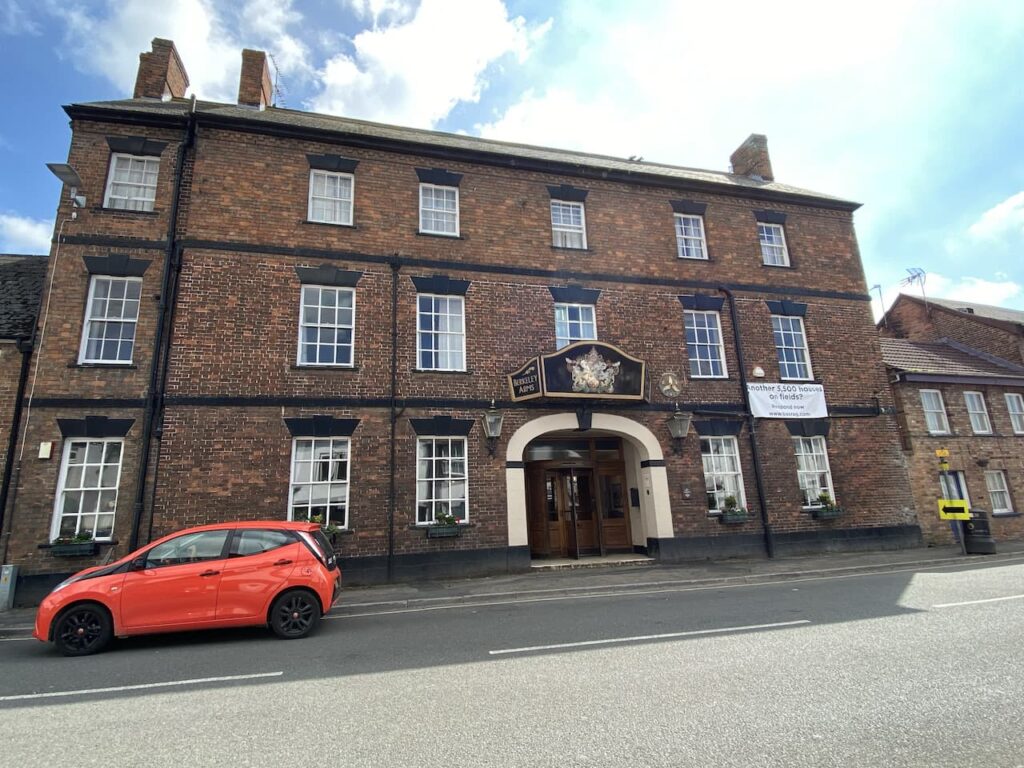 After a wander around we leave the centre of Berkeley on Marybrook Street which soon passes Almshouses and continues past the town cemetery. Passing the last house on the left, just before reaching a roundabout, we take a footpath on the left which initially follows a track besides houses and then continues into fields. At a junction of paths we go right and join Saniger Lane.
We stay with Saniger Lane to the B4066 which we cross to join a track opposite, this heads steadily downhill between the road and railway line. After passing cottages we reach the B4066 and continue besides this initially on the broad verge and then a pavement to pass industrial units. The road leads to a mini roundabout at the entrance to the docks. Here we turn left into Severn Road and follow this the short distance back to our starting point at the Sharpness Viewpoint car park.
You can view this 7.5 mile walk on OS Maps and download the GPX File Here
To follow our walk you will need Ordnance Survey Outdoor Explorer OL167 Thornbury, Dursley & Yate
15th July 2021
© Two Dogs and an Awning (2021)
All information on this site is provided free of charge and in good faith and no liability is accepted in respect of damage, loss or injury which might result from it.  To the best of my knowledge the routes are entirely on public rights of way or within areas that are open for public access.
Walking can be hazardous and is done entirely at your own risk.  It is your responsibility to check your route and navigate using a map and compass.