I plan to walk the Yorkshire Three Peaks tomorrow and have put in plenty of time ensuring my legs are ready for the twenty-four miles and the ascent of the three stunning peaks.  I have decided to walk without the dogs, as I am concerned that on a warm day such a challenging walk will be too much for Crosby. It is definitely further and tougher than ten-year-old Dexter now likes to walk.

Before doing the walk I want to do a rapid ascent of Ingleborough from the Hill Inn, on the Ingleton to Hawes Road.  To do this quickly I am leaving the dogs with Lynnie this morning, we will all go for a walk later.  Starting from the small parking area a few hundred yards from the Hill Inn I cross the road and go through a gate to follow a path towards Keld Bank, on the way I pass a cracking Lime Kiln.

The path soon reaches the limestone pavement of Southerscales Scars and then passes the impressive Braithwaite Wife Hole before going through a gate.  From here I stop and look at the traffic on the path in front of me. There appears to be a constant stream of people walking off Ingleborough and I can also see a group ahead of me going towards Humphrey Bottom.  I judge that this group are likely to hold me up and stop a rapid ascent, so turn left to walk besides the wall.
On reaching a wall I turn right to follow a pathway uphill.  I have walked this path a number of times previously.  It is obviously becoming a popular ascent of Ingleborough, because it is now clear and easy to follow.  It is my preferred route up Ingleborough from this side; I rarely meet anyone, as it is far less congested than the traditional three peaks route.
This is a stiff climb, in the past I have needed to stop a couple of times to catch my breath, but today partly because the route is easier to follow and partly due to my fitness I make it to the top of the ridge without stopping.  At the top I stop to admire the view and get my breath back.
I turn away from Ingleborough here and take the path that follows the ridge above Souther Scales Fell.  I have not walked this before and soon get a cracking view of the Ribblehead Viaduct.
As I continue along the path I hear a steam train on the Settle to Carlisle line, so stop to watch the train pass over the viaduct.  I have seen a number of trains travel over the viaduct, but cannot recall watching a stream train.  It is real treat.
I resume my walk keeping besides a wall, until I reach a junction of paths on Park Fell.  Here I take a slight diversion from my route to locate the Ordnance Survey trig point.
This is the sixty-second trig I have bagged.  It has cracking views in all directions.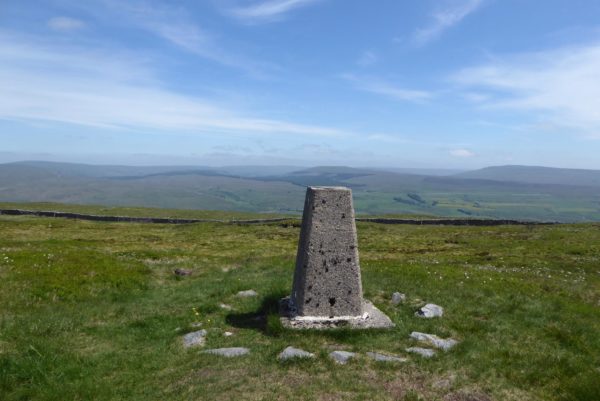 I retrace my steps to the path.  The route goes steeply downhill, a real test for the knees.  Ahead of me in the distance I can see the Cam High Road, this old Roman Road is now the route of the Pennine Way.  Lynnie and I walked that section a few years ago on a hot afternoon.
At the foot of the hill I follow a pathway to the left that merges with a footpath from Colt Park.  Crossing the wall I continue through a field of pasture. The path is clearly marked and easy to follow across fields.  Soon I reach a section of limestone pavement with another stunning view of Ribblehead Viaduct.
In the next field are a herd of cows and a bull.  They are just off the path and I decide to give them a wide berth, I am always wary of cattle after some scary experiences in the past so breath a sigh of relief when I am through the field and a wall separates us.
After another field of pasture, this one containing sheep, I join a track leading to the road.  In front of me there is good view of Whernside.
On reaching the road I turn left and walk beside it, taking care with the oncoming traffic.  The vast majority of drivers are courteous and give me space.  Unfortunately there are a few that do not reduce their speed and only make a slight concession in the space they allow.  I struggle to understand the mentality of such drivers.
Arriving back at the car I have covered close to six miles.  It has been a cracking ramble and now it is time to head back to Brigholme Farm CL for a spot of lunch before lacing up the boots again and going for a walk with Lynnie and the dogs.
To view this 6 mile walk on OS Maps Click Here
To follow our walk you will need Ordnance Survey Outdoor Leisure Map 2  ; Yorkshire Dales – Southern & Western Area

5thJune 2018
© Two Dogs and an Awning (2018)