The weather forecast for today is not great and on our early morning walk Crosby was limping which is probably the after effects of jumping from ladder stiles yesterday. Hopefully after a day's rest he will be fine, but he an old dog and I don't want to walk him too far. Today he is going to stay in the caravan with Lynnie whilst I head off in search of a couple of trig points.
The starting point for my walk is the old lead mines at Yarnbury, near Grassington. There are a couple of small parking areas near Yarnbury House. This house was built in 1826 by the Duke of Devonshire, the landowner in this area, for the Duke's Mineral Agent.
Leaving the car I head north east along a track, Old Moor Lane, and soon pass the entrance to an Incline Shaft. This was built in 1828 and slopes to a depth of 37 metres where carts were loaded with lead and other minerals and hauled out by horses. It might have been large enough for a horse but there is no way I would venture in there!
Within a hundred yards I take a footpath on the left which leads steadily uphill along a track with a drystone wall to my right.
I stay on this track until I reach a gate on my right. Here I am going to take a slight detour to head across the open access land to bag the Ordnance Survey Trig Pillar on New Pasture Edge.
Persistent showers of light drizzle keep rolling in, there are moments when I can see a reasonable distance and then the visibility reduces. I am sure it is not going to close in, but I am glad that as usual I have a map and compass with me and have decided to use it to navigate today rather than relying on an App on my phone.
I head back through the heather to the gate on a well-worn "trig bagger's path" and on reaching the track turn right and continue between the drystone walls. Before too long the track leaves the walls behind and is replaced by a fence on my right and open land to the left with Bare House and High Barn in the distance.
Bare Hose, which apparently is known as "Barras" locally was occupied up until the 1960's but now stands empty, however, it was re-roofed in 2001. It would have been a bleak place to live as it is over a mile to another property and winters up here can be harsh.
Ignoring a footpath off to the left at High Barn I continue along the track until I reach a gate. Here there is a choice of footpaths either through the wooden gate across the track or through a small gap in the wall with a distinctive Ordnance Survey Benchmark carved into the stone.
My route is through the wooden gate and along the track.
The track leads to another gate onto an area of pasture.
The path crosses open land and although there is a faint path in the grass it is definitely a place where you would be grateful for a map and compass in poor weather.
After crossing a ladder stile I continue on to a junction of paths where I turn left and then go through a gate and go diagonally downhill through a field to Kelber Gate. Here I join a lane, Bycliffe Road.
Where the lane turns to the left I continue straight on, a fingerpost points towards Capplestone Gate.
This is a grassy path across fields and then turns to the right to go by the edge of a fir copse before continuing uphill towards a scar on a route marked on the map as Conistone Turf Road.
This a long steady ascent and soon in the distance I spot the Conistone Moor Ordnance Survey Trig Pillar at Capplestone Gate.
It is a warm afternoon and I am grateful for the breeze as I reach the trig pillar. It is the 400th I've bagged and it is a stunning one with which to reach that milestone.
There are wonderful views so I stop for a celebratory cup of tea and spot of lunch before continuing on my way. The route takes me through a gate and I take a well-worn path that initially stays close to the wall and then goes near the edge of the scar.
This route takes me through a disused mine at Benfoot Brow, the map shows this whole area littered with disused mine shafts and the evidence of mining is still very apparent.
I stay on the edge of the scar and pass through an area of stone boulders and continue on to reach a gate.
Going through the gate I very quickly reach a ladder stile on the left which I go over and then descend on a track through the scar with fine views over Upper Wharfedale.
The grassy track heads in a westerly direction gradually descending through fields of rough pasture to reach a gate.
After going through the gate I continue on the track which is now heading towards woodland.
At a junction of paths on the edge of the woods I turn left to join the Dales Way heading towards Grassington.
This is a well-used grassy path and easy to follow as I head south. Out to my right there are fine views across the River Wharfe.
Despite the popularity of the Dales Way there are only a couple of people walking this section and I hardly see a soul as I pass through fields.
Soon I pass the limestone outcrop known as Conistone Pie. It is pretty obvious how it came by such a name.
This is a cracking bit of countryside with interesting scars and I go straight on staying with the Dales Way at a crossing of paths at Conistone Dib. This is a dry gorge, probably created from glacial meltwaters it is an impressive view from above the gorge.
Since joining the Dales Way I have noticed the pasture land has been much improved and have been looking out for a Lime Kiln. These were used to burn the limestone to create lime which was then spread on the fields to improve the pasture. I spot a kiln by the side of the path, a notice board indicates it was built around 1840.
I head through Old Pasture and can see rain on the horizon in the distance. Since the drizzle at the start of the walk it has been dry and I was hoping to get around without having to put my waterproofs back on.
Nearing Grassington I go through an area of rough pasture at Lea Green with limestone outcrops and small sections of limestone pavement.
Just outside the village I pass through a couple of fields of dairy cows and my route takes me around large dairy barns to join a lane into Grassington.
In the village I turn left at the Town Hall and walk up the hill on Moor Lane.
After a steady ascent up the hill the road levels and it is now a long straight walk back to the car park at Yarnbury.
Before heading off I take a quick look around part of the Grassington Lead Mines. An information board explains the history of the mine dating back to when mining started here in 1604. The most prosperous period for the mines was between 1821 and 1861 when on average 965 tons of lead were produced each year. During that period about 170 men worked in the mines. Mining stopped in 1880 and the site has remained derelict ever since.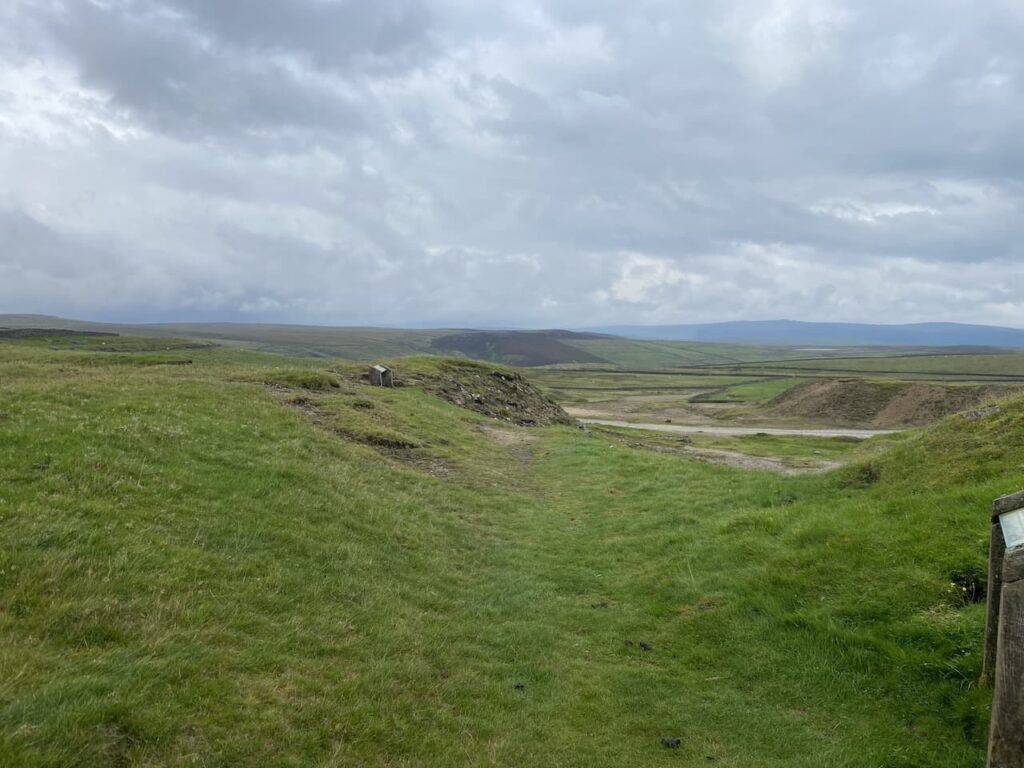 There is an interesting trail laid out around the old mines with seventeen further information boards highlighting the relevance of each location. I take a short stroll to look at a couple but decide it is somewhere to revisit when I have more time to have a good look around.
You can view this 11.5 mile walk on OS Maps and download the GPX File Here
To follow our walk you will need Ordnance Survey Outdoor Explorer – OL2 Yorkshire Dales Southern and Western Areas
1st September 2023
© Two Dogs and an Awning (2023)
All information on this site is provided free of charge and in good faith and no liability is accepted in respect of damage, loss or injury which might result from it. To the best of my knowledge the routes are entirely on public rights of way or within areas that are open for public access.
Walking can be hazardous and is done entirely at your own risk. It is your responsibility to check your route and navigate using a map and compass.