Today I am walking on my own whilst Lynnie catches up with friends in Taunton.  So after dropping her off I head for the Quantock Hills and park at Dead Women's Ditch.
I leave the car park and walk along the lane sign posted to Doddington and Holford.  Over the years I have walked from Dead Women's Ditch on numerous occasions, and as I walk along I recall that the signpost used to be on the opposite side of the road.  Sure enough when I check later my recollection is correct, I don't know when or why the sign was moved but it is odd how such a familiar scene suddenly looks different but it is impossible to say when the change occurred.
As the road sweeps to the right I take a track on the left and then another well-worn track on the left that heads steeply downhill into Lady's Combe.  This is an attractive combe and as I head downhill a deer crosses my path, it looks a bit sweaty and has clearly been running for a while. I continue on but a few minutes later the tranquillity of the Combe is broken by three, baying hounds in pursuit of the deer.
I am not a supporter of hunting with dogs and was under the impression this activity was now banned, so I can only assume the dogs should have been following a drag trail when they picked up the scent of the deer.
I cross the stream at the head of Holford Combe and continue on an uphill path directly opposite from Lady's Combe.  This is a track I have not walked for many years, at one time when living in Taunton it was part of my regular walk with our dog Baggins.  In those days I used to struggle up the hill, but now fifteen years later I am much fitter.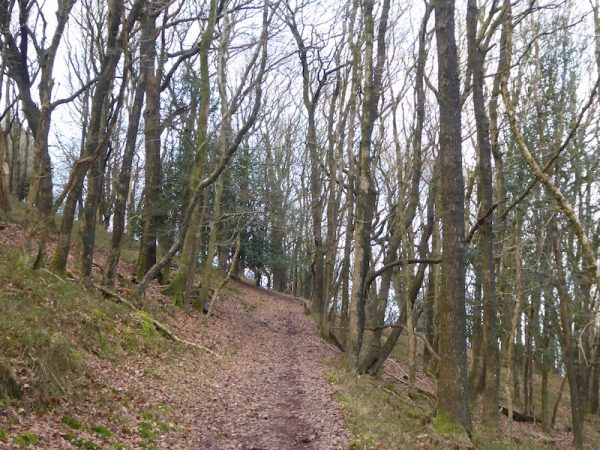 I stay on the track to reach Higher Hare Knap.  I have been here many times and walked most of the paths from this point.  As I stand looking at the view I realise I have never walked the path heading north towards Holford.
Today I am determined to walk some new paths so strike out on this path and immediately I'm rewarded with stunning views.
The path reaches a gate close to a bench.  It is a cracking spot.
I go through the gate and follow the path through woodland to reach the car park near the Bowling Green in Holford.  It was only a couple of days ago that I mentioned to Lynnie that I had never walked this path, now I can tick it off.
I turn left and follow the road past the dog pound and continue along this tarmac drive.  This is another route I have not previously walked. This section is part of the Coleridge Way, a trail covering fifty miles from Nether Stowey, on the east side of the Quantocks, to Lynmouth linking locations associated with the poet Samuel Taylor Coleridge.
There are some great views over the Bristol Channel towards South Wales from this track.
Around the corner I reach Alfoxton House, this once fine house was built in 1710 after a previous building was destroyed by fire.  Between July 1797 and June 1798 the poet William Wordsworth and his sister Dorothy lived in the house and were frequently visited by Samuel Coleridge.
The house operated as a country hotel for a number of years but now sadly looks in decline.  I later find it is for sale with a guide price of £2m, unfortunately, outside my current budget, but if my luck changes and I find I have a spare few million I might be interested.  The views are stunning and having the Quantock Hills in your back garden would be perfect for me.
After passing the hotel I enter woods and head uphill  leaving the Coleridge Way to go through a gate to follow a path up Pardlestone Hill.
Emerging from the woodland I reach a junction of tracks and turn right to continue on a broad path uphill, this is a steady climb with cracking views as I pause and look behind me and out to the right over the Bristol Channel.
The grassy path starts to level a bit, but it is still steadily uphill.
As I pass the top of Gay's House Combe I fork right on a track and follow this past Herridge Combe to reach Round Hill.  From here I turn left to follow a path through the heather to reach the trig point at the top of Beacon Hill.  This is a trig I have bagged a number of times but it is always worth visiting for the views.
From the trig point I head southeasterly on the track leading towards Bicknoller Post which stands at the head of Sheppard's Combe.
I now take a route I have walked many times following the track towards Black Ball Hill and then on to reach Halsway Post.
Now I fork left and follow the track to Frog Hill.
At a junction of paths I fork left to follow the stony track leading back to Dead Women's Ditch.
Back at the car I have covered just over eight and a half miles. It has been an interesting walk exploring bits of the Quantock Hills I haven't previously visited.  This is a wonderful place to walk; I have been here so many times and have enjoyed every single walk.
To view this 8.5 mile walk on OS Maps Click Here
To follow our walk you will need Ordnance Survey Outdoor Explorer 140 – Quantock Hills & Bridgewater
3rd January 2019
© Two Dogs and an Awning (2019)