One of my favourite places to visit on the North Devon Coast is Buck's Mills. Whilst the hordes descend on Clovelly, which I concede is a pretty spot but I am not inclined to pay a fee to walk into a village. You can walk through Buck's Mills and hardly see a soul. What's more it is free!
We were first introduced to this attractive fishing village by Betty, she was a friend of Lynnie's Uncle Derrick. Over dinner one evening Betty told me all about her background and how she was born a Braund and came from Buck's Mills. Sadly Betty died a couple of years ago, but the evenings we spent in her company were a real pleasure. She had a zest for life and a wicked sense of humour and an evening in her company always lifted the spirits.
This is the last day of our trip and we have decided to walk to Buck's Mills, rather than start in the village we will head there from Parkham, a few miles inland. Our starting point is a parking area in the centre of the village outside St James' Church.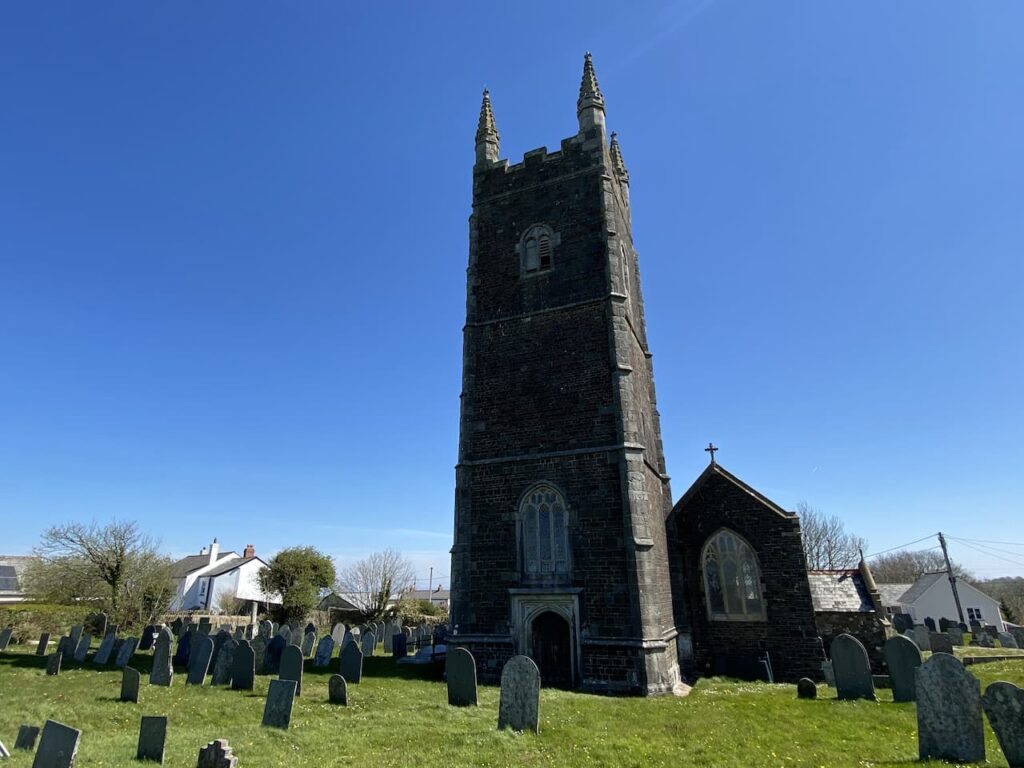 From the church we head in a southwesterly direction through the village on Barton Road to reach a crossroads beside the Bell Inn, here we turn right to join Melbury Lane and pass the school. We stay with this lane until we reach a junction where we turn right on a lane signposted to Clovelly and Hartland.
The road is a very quiet country lane and it is pleasant walking in the spring sunshine. We ignore two roads off to our left and then three quarters of a mile after the second turning we turn right into the wonderfully named Galloping Lane.
On reaching a road we turn left and then after almost half a mile we turn right at a crossroads to follow a lane signposted to Buck's Mills. At a junction we keep straight ahead to head into Buck's Cross. On reaching the A39 we cross with care and continue straight on to start heading downhill towards Buck's Mills.
As I mentioned earlier this is a cracking village, there is still a sense of the past and whilst there is the odd nod to tourism it is a location where it is easy to get a feel of how things would have been over hundred years ago.
Back in 2016 when Betty was telling me about being a Braund she said that her grandfather was known as the 'King of Buck's'. During the 1800's the Braund family made up the majority of the population of the village and there is a house in the village built by the Braund's known as King's Cottage. It was fascinating spending time talking to Betty about her early life and as we go through the village I keep an eye out for the King's Cottage which is located at the end of the village overlooking what would have been the harbour.
We follow the steep path down. Apparently back in 1598 Richard Cole of Woolfardisworthy, thought to be the 'Old King Cole' of the nursery rhyme, built a harbour here to provide shelter for cargo ships. The harbour is long gone but the remnants of fishing remain with the rusty old winches.
The industrial past of Buck's Mills can be seen from the limekilns under the cliff. The coal to fire the kilns would've been transported across the Bristol Channel from South Wales. The movement of goods and people across this channel was a common occurrence. When Lynnie's mother was in her teens she moved from Swansea to Bideford with her mother and siblings. Along the coast to our left is Clovelly. This is where Lynnie's great grandmother lived and when Lynnie's mother was a young child she used to make trips across the Bristol Channel from Swansea to Ilfracombe to see relatives.
There are two sets of limekilns here, sadly the ones nearest the beach are fenced off because they are unsafe. It is therefore difficult to get a good view of them. The kiln higher up near the village is still in a good condition, although access does not appear possible.
We walk up from the beach and take the sign for the Coastal Path on our left. This path has steps and is a ferocious climb and we are soon above the village and the cliffs and entering woodland. On reaching a junction of paths where the South West Coast Past goes to the left, we carry straight on and soon join a grassy lane between hedges.
This lane leads to a junction with a minor road where we go straight on with the coastline to our left.
We stay with this lane to pass Sloo Farm and soon after on our right we reach the Northway Farm Ordnance Survey trig pillar standing high in the hedge line. This is the 242nd I have bagged.
On reaching Northway Farm with its fine collection of barns we turn left down a lane marked as being unsuitable for motor vehicles and then after a couple of hundred yards take a lane on the right leading downhill to cross a stream.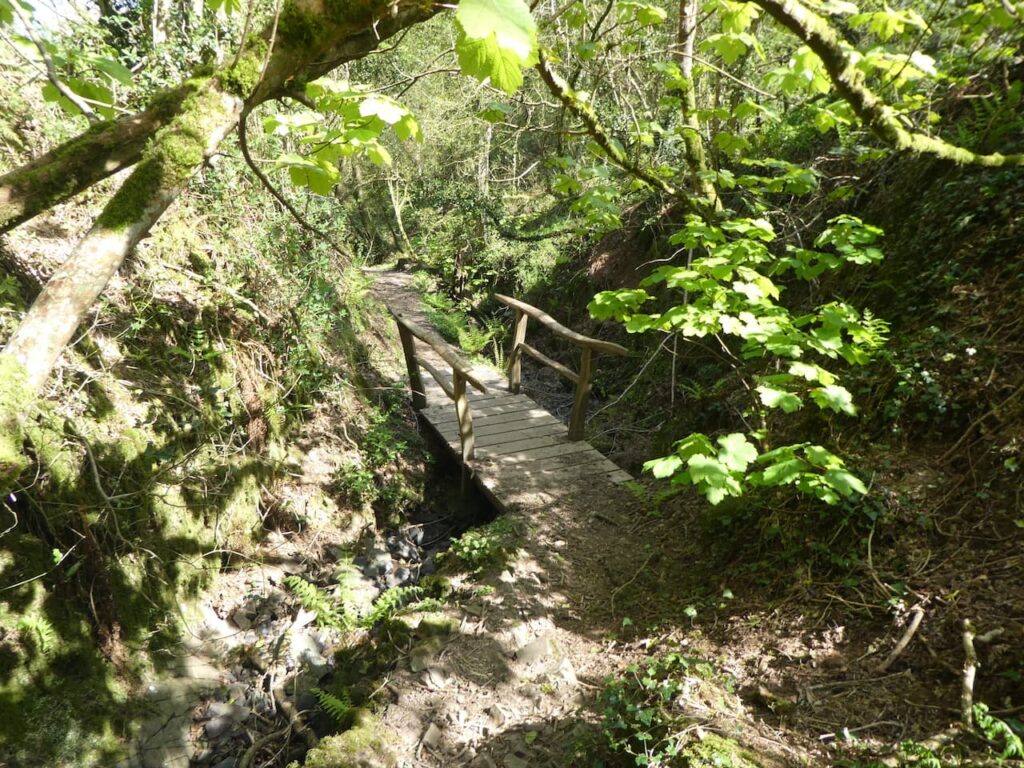 On reaching a junction of tracks we go right on the route way marked to Horns Cross.
We stay with this lane as it heads steadily uphill to Horns Cross where we cross the A39 besides the Coach and Horses Inn. We now head south on Acre Lane and stay with this lane as it bends to the right and continues towards Goldworthy.
In Goldworthy we keep right at a road junction and continue downhill to cross the River Yeo at Newhaven. Immediately after crossing the bridge we leave the road and turn right on a track heading steeply uphill towards Parkham. As we ascend there are fine views across the valley behind us.
As the track levels out we pass farm buildings and then continue along the track to reach a minor road in the Parkham. Here we continue straight on to reach our starting point outside St James' church. We have covered nine and a half miles and despite having rather more road walking than I would normally choose it has been a pleasant walk. These are very quiet lanes and we have only encountered a handful of cars on our route.
Now it is time to head back to Seabreeze CL and start packing up for our return home tomorrow morning.

You can view this 9.5 mile walk on OS Maps and download the GPX File Here
To follow this walk you will need Ordnance Survey Explorer Leisure Map 126 – Clovelly & Hartland
24th April 2021
© Two Dogs and an Awning (2021)
All information on this site is provided free of charge and in good faith and no liability is accepted in respect of damage, loss or injury which might result from it.  To the best of my knowledge the routes are entirely on public rights of way or within areas that are open for public access.
Walking can be hazardous and is done entirely at your own risk.  It is your responsibility to check your route and navigate using a map and compass.