This is only a brief visit to Seabreeze CL; tomorrow we head off to Cornwall. Before we leave Lynnie is keen to make another visit to the Hocking's Ice Cream van at Westward Ho! So a walk across Northam Burrows is called for today.

We leave Seabreeze turning left along the road and quickly left again along the lane to the entrance to the Burrows. It is a breezy afternoon and experience has taught us that in these conditions it is best to walk with the wind at your back when close to the sand dunes. So we follow the southern boundary of the Burrows Country Park.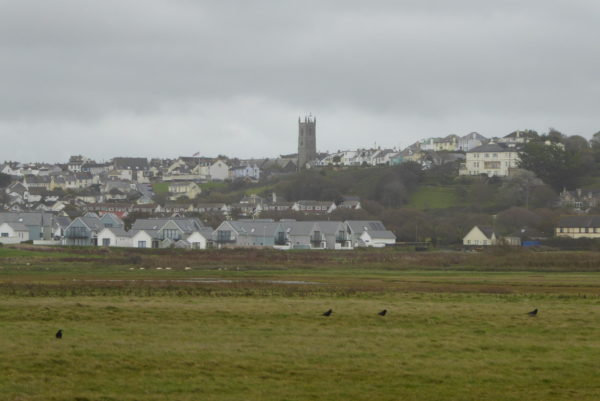 It is a straightforward route to reach Westward Ho! and after a couple of miles we are on the sea front and Lynnie is faced with a bit of a dilemma. On previous visits there has only been one Hocking's van, selling the traditional vanilla dairy ice cream, but today there is also the Hocking's flavour van. Having not previously seen the flavour van this is the one that Lynnie chooses.
I am not a great fan of ice cream though I do enjoy Hocking's but it would need to be a hot sunny day to tempt me. Over the years I have found that Lynnie is not so bothered about the weather when there is an opportunity for good quality ice cream.
Continuing our walk we return to the Burrows Country Park, but this time take the route along the coastline on the path running between the beach and golf course.
As we turn to head back towards Seabreeze CL there is an amazing collection of fungi, including a large "fairy ring".
Our little wander around has covered just over five miles. It is a pity that we are not staying longer, but we hope to be back again next year.
To view this walk on OS Maps Click Here
To follow our walk you will need Ordnance Survey Outdoor Explorer Map 126 –Clovelly & Hartland
1st October 2017
© Two Dogs and an Awning (2017)