Today it is Lynnie's birthday. She has decided that she would like to spend it watching the European Athletics on the TV in peace and quiet. So I am forced to take the dogs for a walk on my own!

So after a morning of pampering Lynnie and watching her open birthday cards and presents I set off with the boys.
When I was back in Pitton a few weeks ago I spent a pleasant couple of hours 'early doors' on a Sunday evening in the Silver Plough with my mate Andy. When he first moved to the village about six or seven years ago Lynnie and I lived in another house and we were close neighbours with Andy and his soon to be wife Georgi.
We soon became friends. He is what my mother would have called "a nice lad". He is about twenty years younger than me and I enjoy his youthful perspective. Over the years he has sought to lead me astray on a Sunday evening by sharing a 'sharpner', these chats are amongst the things I have missed most about being away from the village whilst travelling.
Like me Andy is a keen walker and over our pint he told me about his favourite walk in the Brecon Beacons. So today, armed with his walking book, I set off to follow his route. It is a clear sunny afternoon and I drive off through the lanes to take me to the Black Mountain, after a few miles I meet a quad bike in the road and I'm told to move to the side because sheep are coming down the lane. Also halted here are Frank and Anne our neighbours on the site, they are riding up the lane to watch the Red Kites being fed. We chat whilst sheep pass, then more come, and more, and even more. It looks like they have all passed so Frank and Ann head off. But then I see more, and more and more. Well over two thousand sheep must have come by. I sat there for thirty minutes!
Finally they are all past and I head off again, I have gone no more than a couple of miles before I encounter another flock coming towards me. It must be sheep moving day! This flock is, thankfully, smaller and soon passes.
Finally I reach my parking spot at the Forestry Commission car park at Pont 'ar Wysg on the edge of the Glasfynydd Forest. Andrew's walk has me heading along the road before joining a valley and then crossing the moorland. In front of me are the Carmarthen Fans, they look incredibly inviting. It has been a few weeks since I walked to the top of a big hill and Fan Foel in front of me is 2,562 feet high. So I decide to go off piste and walk across the access land to climb it.
This is not easy going, there are some paths that turn into sheep tracks leading to boggy ground. There is open access for walking so it is just a case of keeping the big lump of rock in front of me. After a while I start to climb and get views back across the Usk Reservoir and then to my left in the far distance the Brecon Beacons. As I climb the views become more extensive. Finally I reach the base of Fan Foel and as I go steeply up I am treated to stunning views along the Carmarthen Fans and down to Llyn y Fan Fach, this is a lake set in the amphitheatre of the Fans. I have seen some wonderful sights in the last few months but this is up there near the top of the list.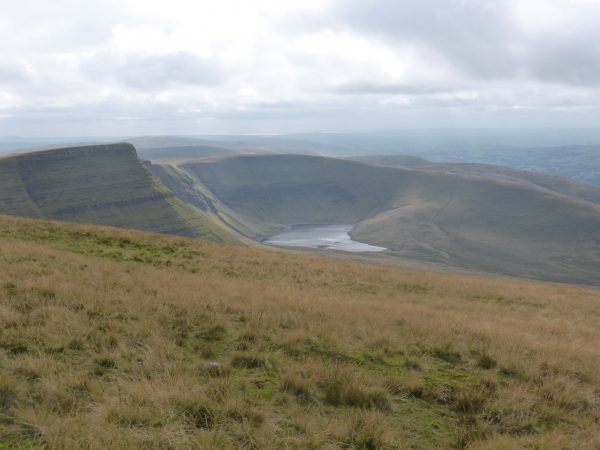 There is a story attached to this lake, indeed many stories that are basically quite similar. The short version is reported as follows- a local young man, son of a widow from Blaen Sawdde (near Llanddeusant) sought to marry a beautiful girl who arose from the lake, she consented on the condition that he would not hit her three times. He complied easily because the girl was so beautiful, and they were happy for years putting up a house in Esgair Llaethdy near Myddfai, and bringing up a family there.
The girl had very special cattle, traditionally still kept at Dinefwr, Llandeilo, and other animals. But over time the man hit his wife three times often as gentle admonishments. Reasons for why he hits her vary, from the wife laughing at a funeral or crying at a wedding. Regardless of the reason, following the third strike she went back to the lake according to the promise, taking the cattle with her.
But the mother came back to instruct her children, and in particular one called Rhiwallon. In due course Rhiwallon and the other sons went to the court of Rhys Gryg from Deheubarth where they became famous doctors that are known today as the Physicians of Myddfai.
Finally we reach the top, it is blowing hard (and so am I) and there is a chill to the wind so I decide not to linger and retrace my steps back to the car. This is a bleak and desolate spot and would be a real challenge in the depths of winter. Today it has been an exhilarating two and half hours, tough going at times but a really cracking walk. Time to get back and check that Lynnie is still relaxing.
As it's a special occasion we take a walk down to the Goose and Cuckoo for an evening meal. The food is as good as the beer and it is pleasing to see a village pub doing such good trade. Luke the landlord recognises me from the previous evening and gives us a warm welcome. I do like this village everyone is so friendly.
(16th August 2014)
[To follow my walk you will need Ordnance Survey Outdoor Leisure Map OL12 – Brecon Beacons National Park Western Area]
© Two Dogs and an Awning (2014)