It was soon after we got our first caravan in 2012 that we made our first visit to Brigholme Farm CL, since then we have stayed for over a fortnight at least once a year.  I have, therefore, walked many of the routes and paths around here but surprisingly there are still a couple of trig points within walking distance that I have yet to "bag".  Today I plan to rectify that by knocking one off the list.

Leaving Brigholme Farm I turn left and walk along Station road, at the crossroads I turn right along Raines road.  I stay on this road passing some of Giggleswick School's playing fields and then at a junction turn right into Church Street the road now crosses the Tems Beck and then passes the church.
Turning left at the next junction I head uphill and then turn right to walk downhill passing a school and then take a turning on the left along Stackhouse Lane.  I stay on the lane as it leads out of the village and take a track on the left leading into Lords Wood.
The footpath stays close to the drystone wall through the woods and crosses access land heading north; I ignore paths that would lead me towards the quarry and Schoolboys Tower.  In front of me in the distance is Pen-y-ghent.
I am steadily heading uphill and away to my right is a good view of Langcliffe Quarry.
After going through a gate to enter a field of pasture I head for a ladder stile on the left and cross the dry stone wall to join a path that is marked on my OS map as "A Pennine Journey".  It appears that just about every path around here has a name.  In this area I have walked parts of the Ribble Way, Dales Way, Dales High Way, Pennine Bridleway, Pennine Way and now A Pennine Journey!
According to the website devoted to A Pennine Journey trail it is a 247 mile long distance path devised as a tribute to Alfred Wainwright.  It is a circular route roughly following the route Wainwright took and wrote about in 1938.  However, it was not until the 1980's following his rise to fame that the book A Pennine Journey was published. The route starts and finishes in Settle and heads north on the eastern side of the Pennines to reach Hadrian's Wall, after a stretch along the wall it returns to Settle on the western side.  I don't usually share links to other websites in my blog but  A Pennine Journey is worthy of an exception.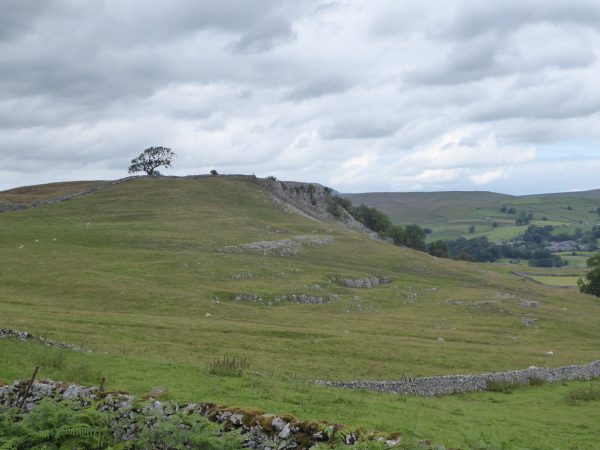 I stay on this route as it passes through a gate and continues along a clear track with Ingleborough in the far distance.
As I proceed Smearsett Scar to my right becomes more prominent, on the summit of the scar is the trig point I will be bagging later.
My route continues along the clear pathway, the only deviation I make is to avoid a herd of cattle, rather than go through the middle of them I take a circuitous route around the field they occupy, thereby avoiding a risk of confrontation.
I stay on the waymarked path until I reach Feizor.  In the hamlet I turn right on the tarmac lane and keep on this as it passes through a gate and continues uphill through access land.  Here I stop and take a look back over the route I have just travelled.
The driveway continues underneath a scar, which has warning signs to prevent folk climbing on the unstable cliff face.  Frankly I do not need a warning sign, climbing rock faces has never appealed to me.
Just before reaching a gate I turn right and climb a ladder stile besides a locked gate.  This footpath runs along side a dry stonewall before crossing a series of ladder stiles.
The summit of Smearsett Scar stands clearly in front of me and I follow indistinct paths to arrive at the trig point.  This is the 147th I have "bagged".
This is a stunning spot with panoramic views.
Leaving the trig I head for the dry stonewall to the east, this is a steep descent across access land.  Reaching the dry stone wall I turn right and continue downhill to reach another ladder stile.
From here I head up to the Dales High Way and follow this route across fields towards Little Stainforth.  The view in front of me is dominated by the route towards Pen-y-ghent.
As the path starts descending to Little Stainforth there is a clear view of the ancient field system outside of Stainforth, which sits on the far side of the River Ribble.
At Little Stainforth I turn right and follow the lane back towards Giggleswick.  Across the valley is Langcliffe quarry.
Back in Giggleswick I retrace my steps to Brigholme Farm CL.
My walk has covered xx miles and I arrive back at the caravan just as England start the extra over of the Cricket World Cup.  Lynnie has been glued to the radio all afternoon, she is an avid listener to Test Match Special, so I am told not to disturb her listening!
To view this 9 mile walk on OS maps Click Here
To follow my walk you will need Ordnance Survey Explorers OL2 Yorkshire Dales Southern &Western; and OL41 Forest of Bowland & Ribblesdale

14th July 2019
© Two Dogs and an Awning (2019)