Today's walk is a slightly easier version of one that we tackled last year. Then chatting to young Mr Jones on Abergwynant Farm site we talked about walking up the distant Cadair Idris, he told me how to get their on foot from the farm. It was a stunning walk and one that will never be forgotten, not least for the precipitous drops, the type that has a Freddy on his hands and knees.

Those with a more adventurous disposition can follow that walk at http://twodogsandanawning.co.uk/cadair-idris/ . Today's trip has us starting at the car park at the foot of the Pony Track. This was our first picnic stop on last year's walk, but today we have a way to go before the sandwiches come out of the rucksack.
Yesterday we walked on the flat, today we are going up, with some down of course! But the first stretch is definitely up. The last time we did any serious "up" walking was in the Yorkshire Dales. This is serious up walking at its best.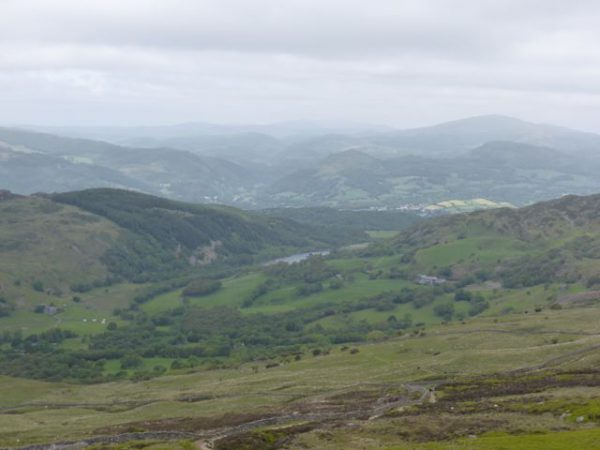 The beauty of hill walking is that you get cracking views and every time you turn around to stare on this walk you get top draw cracking views!
Half way up I have the misfortune to get a phone signal and the phone rings with a work call. It is about at this point I start to think seriously about retirement. As much as I enjoy working it does seem to get in the way of life. To borrow (and rejig) a phrase from Mr Spock "It's life Lynnie, but not as we would want to know it".
Call over and time to resume walking, conditions are good today. Not too hot and clear visibility. We get fabulous views of Cadair Idris and I try to convince Lynnie that we should head toward the summit, but to no avail.
As we reach a gate at a junction of paths we turn right, away from Cadair Idris and go through another gate before turning left to follow the path at the back of Tyrrau Mawr. From here we get panoramic views and decide it is a good place to picnic.
To create a circular route we would have a long trek and as we check the potential route we spy bears lurking in the fields we would need to cross. We decide, with little hesitation, to turn around and retrace our steps.
This provides a splendid opportunity to appreciate the views that we missed on the way up and gives Lynnie another chance to get the camera out to take shots of things previously missed as she was too busy breathing!
Our little stroll has been just over five miles, half of which was seriously up and the other half seriously down, so it feels like we have gone much further.
My late evening meander with the boys alongside the Afon Mawddach provides the most spectacular sunset. We are on the move tomorrow and I will really miss this spot. We are already planning next year's trip to Abergwynant Farm.
18th June 2015
[To follow our walk you will need Ordnance Survey OL Map 23 – Cadair Idris & Llyn Tegid]
© Two Dogs and an Awning (2015)