After a month in Yorkshire it is time for us to head south.  We have decided to break the journey home with a stay in the Peak District, close to Matlock.  This is an area we visited, briefly, several years ago and it will be an opportunity to explore new ground.  A few hours after leaving Brigholme Farm CL we are pitching up on Tax Farm CL.

Our new pitch has stunning views across Darley Dale and it is not long before we are lacing up our boots to go for a wander.
Leaving the site we walk up the steep entrance driveway, it is definitely steep and I am glad I have a Landrover to pull the van out of here when the time comes to leave!  Turning left at the top of the drive we look back over the site and across the dale.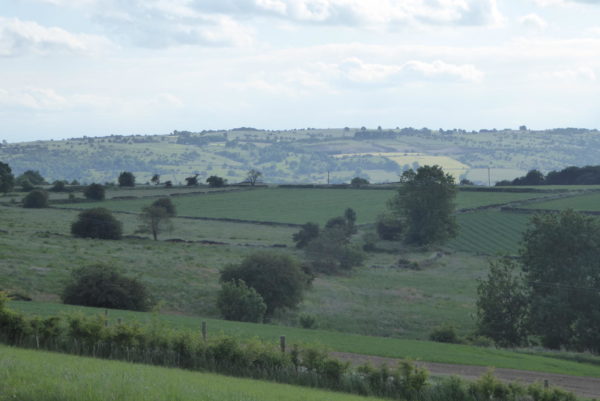 We now follow the track, soon descending steeply, and after passing a cottage we keep straight on through a bracken-lined path to meet a junction of paths.  We turn right to walk besides a wall on a clear path.  After a while this descends to Sydnope Brook.  We ignore the footbridge in front of us, instead taking a footpath on the left.  This soon reaches a waterfall on the opposite side of the brook.  Given the recent dry spell there is not a lot of water flowing, however this must be impressive in wetter times.
Our route is easy to follow, the footpath continues through woodland by the side of the brook.
Soon we reach Potter Dam, built around 1827 to provide the constant flow of water required to operate the Ladygrove Flax Mill further down the brook.
Immediately below the dam is another millpond and the Fairy Dam built around the same time as Potter Dam.  We continue on past the millponds and then as we approach Two Dales we take a footpath on the left that follows a track steadily uphill along the edge of Ladygrove Wood.  As the path begins to level we reach a junction of paths and turn left to walk along a broad tree-lined track. Soon passing a disused quarry.
This route eventually leads us to the junction of paths we had been at earlier, this time we turn right and walk back through the bracken again passing the cottage and heading up the steep driveway to return to the entrance to Tax Farm.
Our little wander has covered close to three miles and has been a good short walk to familiarise ourselves with the area.  Later I sit in the awning studying the map to plan tomorrow's walk, it is sure to encounter a trig point somewhere along the way. Looking up from the map I see a cracking sunset developing.  It looks like we are in for another pleasant day weather wise tomorrow.
To view this 3 mile walk on OS Maps Click Here
To follow our walk you will need Ordnance Survey Outdoor Leisure Map 24 The Peak District – White Peak Area 
12thJune 2018
© Two Dogs and an Awning (2018)