We have reached the final day of our stay at Swanley House CL, it has been an interesting week and I have enjoyed walking the local canal towpaths.  Lynnie still maintains these are a bit boring, but on the positive side they are flat and easy to follow.  There is one canal around here that we have yet to venture onto, the Middlewich Branch of the Shropshire Union Canal.

To get Lynnie on another canal walk a bit of bribery is required, there are various ways of bribing Lynnie and they all involve food!  The most successful is with quality ice cream, so we are off to Snugburys.  As it is the last day of our tour Lynnie opts for a double scoop.  Sometimes I think I spoil her!  But she is worth it!
We start our walk in Barbridge, close to the pub the Olde Barbridge Inn.  We walk back up the road crossing the canal at Bremilow's Bridge and turning left to join the towpath of the Shropshire Union Canal Main Branch soon passing the pub on the opposite side of the canal.  At Barbridge Junction we cross the Middlewich Branch and then double back under the bridge to follow the towpath alongside this canal.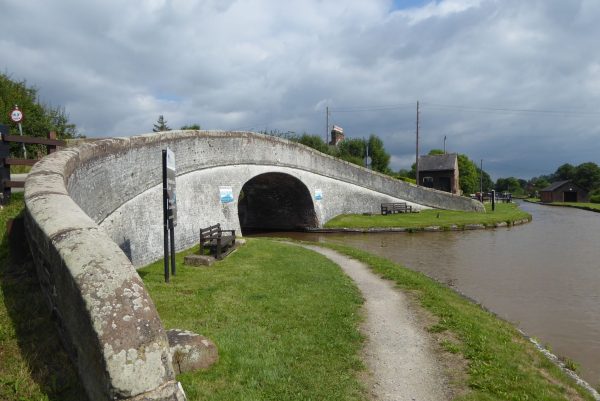 This canal is ten miles long and goes from Barbridge to Middlewich where it joins the Trent and Mersey Canal via the Wardle Canal.  It was approved for construction in 1772, but not actually built until 1827, at the time the Trent and Mersey Canal insisted on the construction of the short Wardle Canal to join the two and they charged high tariffs for access to their canal.  We soon reach the Venetian Marina; I am amazed at how many barges there are here.
Immediately we pass under the Chester and Crewe Railway line.  This is a very quiet canal and the route takes us through pleasant countryside.  Soon we see Brickyard Bridge in front of us.
This is where we leave the towpath and cross the bridge to pick up a footpath forming part of the Crewe and Nantwich circular walk.  Entering a field of pasture we spot recent evidence of bears but wherever they are lurking they are well hidden.  Going through another field we reach a broad track.
After passing a house we cross the railway line and then pass the farmyard.  One of the bears here give us a good looking at.  I am not good at interpreting the facial expressions of bears, but I think she is trying to convey that we are lucky we didn't meet her in the field!
Following the farm drive we cross Dairy Lane continuing on the lane opposite to a T-junction where we turn right into Aston juxta Mondrum and quickly reach St Oswald's Church.  Originally built in 1873 in was severely damaged by fire in 1997 but has now been fully restored.
My attention is caught by the grave of Baron William Henry Von Schroder (1841 – 1912); this is an unusual name to find in a rural English churchyard.  Later research shows that he was the son of Baron John Henry Von Schroder; the founder of the merchant bankers J Henry Schroder and Company.  Now known as Schroders they apparently manage assets worth £416.3 billion.  Baron William moved to this area in 1867 when he purchased nearby Rookery Hall.
From the church gate we turn left, walking a few yards back along the road and then turn right before the school to head along a lane (Barons Road) at a fork we go right along another country lane (Poole Old Hall Lane). Approaching Poole Old Hall there is a cracking wooden sculpture of an owl in a hedge.
At a junction we turn left along the slightly busier Wettenhall Road and after about quarter of a mile turn right again along a country lane (Poole Hill Road).  This road takes us back towards the canal, which we can see for a while before being able to re-join the towpath.  We turn right along the towpath back to Barbridge.
After walking eight miles we contemplate popping into the Olde Barbridge Inn for a sharp'ner, but I have a slight aversion to pubs that add an "e" to Old.  In any case we need to get back and make preparations for our departure tomorrow.  We have been on the road for almost six weeks and head home in the morning.  I hate to think how long the grass will be in the garden!
To view this route in OS Maps Click Here
To follow this walk you will need Ordnance Survey Explorer Map 257 – Crewe & Nantwich
24th July 2017
© Two Dogs and an Awning (2017)