Today's walk is a variation of the walk I did a few days ago when I visited Attermire Scar and Victoria Cave. This route takes in an attractive section of the Ribble Way before heading up to Victoria Cave.
I leave Brigholme Farm and turn right and within a couple of hundred yards take the footpath on the right joining the Ribble Way as it crosses a field to head towards the River Ribble. The route follows close to the river, passing behind barns on Brigholme Farm to enter another field.
The path hugs the river as it goes through a gate into a spinney and then turns to run parallel to the A65.
Approaching a road bridge over the river I turn right over a ladder stile to climb the embankment and then cross the river on the pavement besides the A65. On the far side of the bridge I take a footpath on the left leading down the embankment and once again joining the river. I turn right and follow a farm track as it sweeps away from the river heading towards Runley Mill.
On reaching the B6480 I cross and continue on the track opposite, Lodge Road.
The track climbs steadily to reach Lodge Farm and after going through a gate I turn left and at a fork in the track take the right option.
I go through a gate and walk along the track by a plantation and then at a second gate follow the walled track. At another gate I keep straight ahead keeping Black's Plantation to my right. At the junction of Mitchell Lane and Lambert's Lane I fork right into Lambert's Lane and follow this walled track, enjoying the views.
Reaching a road I take a right turn and then shortly a left onto Stockdale Lane. In a few hundred yards at the bend I go over a ladder stile to follow the path as it gradually climbs up alongside the wall.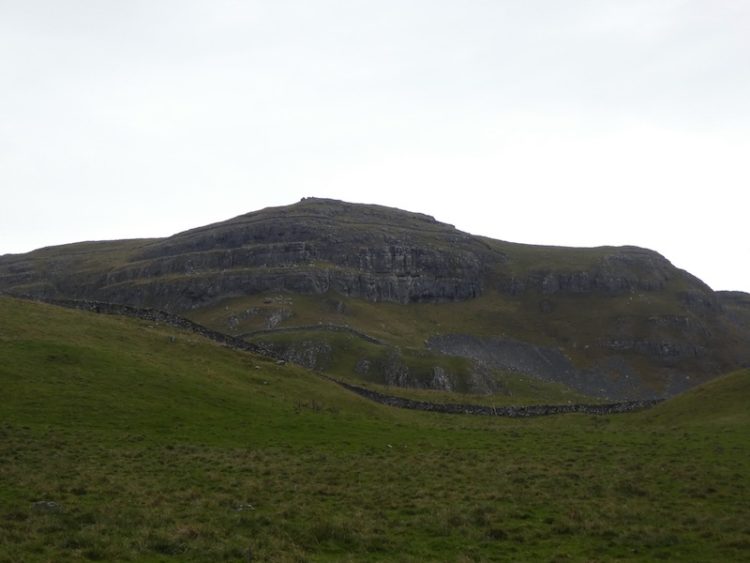 I head over Sugar Loaf Hill; now in front of me are wonderful views of the spectacular escarpment of Warrendale Knotts and Attermire Scar.
My route continues under Attermire Scar, with views back to Pendle Hill.
After passing Victoria Cave I go through a kissing gate I turn left and go through a gate on a farm track to descend downhill to another gate.
I then take the path on the left way-marked the Pennine Bridleway. Now it is case of following the path across a couple of fields below Blua Crags before descending on a walled track to return to Settle and then back to Brigholme Farm. It has been another cracking walk covering just over seven and a half miles.
To follow my walk you will need Ordnance Survey Explorer Map OL2 – Yorkshire Dales [Western Area]
You can view this 13 mile walk on OS Maps and download the GPX File Here (Subscription to OS Maps Required)
14th November 2019
© Two Dogs and an Awning (2019)