It is our final day of this brief trip to East Sussex and we decide to wander into Eastbourne and have a leisurely explore around.  I know that high on Lynnie's agenda is a trip to Fusciardi's to sample some more of their ice cream.  The location of Black Robin Farm CL means it is ideal for a stroll into the town and the dogs get some exercise on the Downs on the way.

It is another beautiful, clear sunny day, but there is a chill to the wind.  We should not complain we have had a week of lovely weather for early April.  When I was a nipper April was the month of showers, but now we seem to get great weather.  Perhaps its global warming, something is certainly going on.
Walking along the sea front we stop at the old AA box at the Wish Tower.  Apparently, there are nineteen remaining in-situ examples of these boxes around the country.  Originally there were close to 1,000 dotted around the countryside.  When I first started driving and joined the AA I recall receiving a key to access the box in case of emergency.
We have previously seen one in Wales at Devil's Bridge, but cannot recall seeing any of the others on our travels.  This one was not originally on this site, those that know about these things say this is Box 73, which used to be in Maidenhead and has been relocated here.  In any case it is a good reminder of the past.  A bit like telephone boxes and NHS Hospitals without someone looking after them they will soon be a distant memory.
Today we round the top of the bandstand it is a cracking building.  We will have to arrange a future trip when there is an event going on here, it would be good to see it in use.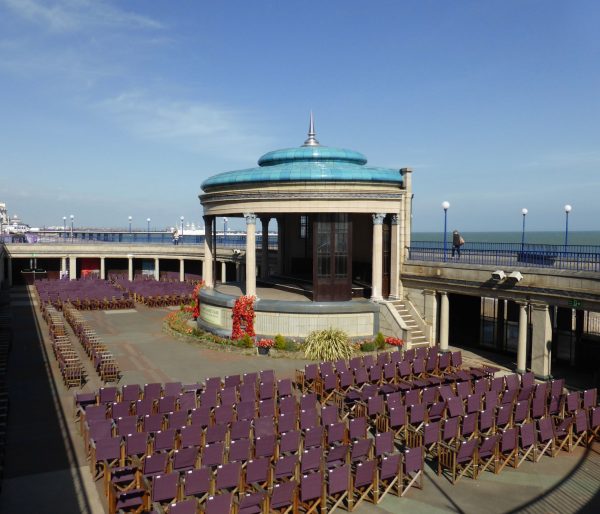 We are ambling about without a purpose and heading where the mood takes us, which can be a bit risky.  Both Lynnie and I have a fascination with old books and find it impossible to pass a second hand bookshop without entering for a browse.  So when we come across Camilla's Bookshop there is no stopping Lynnie.  This is the sort of bookshop we could spend a day in, but fortunately we are limited by how many books we can carry, but I still end up carrying a rucksack full!
Our next stop in a few weeks time is Hay-on-Wye and I am not sure if I will be able to restrain Lynnie there!   I don't know how many books there are in Camilla's and doubt that the owners know exactly but it must be in the hundreds of thousands.  The place is absolutely packed!
Further around the corner we come to the Town Hall, this is a fine Victorian building that opened on 22 October 1886, the clock was installed later, in 1892.
Behind us on the junction of South Street is an old pub that has been refurbished but retains the original glasswork and bar names over the doors.
South Street is stunning, many of the modern shops retain the old tile work and it is easy to imagine this street in its glory days.  At the end of the street we carry on and soon reach the War Memorial.  This one is a bit different from many we have seen during our travels, it is a bronze sculpture of the Angel of Victory and commemorates those lost in World Wars I and II.
We are heading parallel to the sea front now with Lynnie striding on with a purpose, she has a feeling we must be nearing Fusciardi's, but before we get there we stop and look at The Royal Hippodrome Theatre.  This is the oldest theatre in Eastbourne first opened in 1883, from the outside it lacks some of its original polish, but it is still a fine building.
We now make our way to Fusciardi's and whilst Lynnie is inside I take a look at the water fountain next to the shop.  The inscription reads, "This drinking fountain was donated in September 1865 by Mrs Elizabeth Curling (1790 – 1873) who lived in Kent Lodge, Seaside Road (now Trinity Trees).  The fountain was originally located in the middle of the road in Seaside, near the junction of Leaf Hall Road.  It was first moved to the corner of Langney Road, probably in the 1950's before being restored and relocated here on 21st December 2000"
Lynnie arrives with two ice creams in hand, I think this a bit extreme, but she explains that one is for me.
I don't eat many ice creams but apparently this is so good I have to taste it.  It is good and both the dogs feel that they should be allowed to sample some.
It is time for us to head back to the Coachman, we decide to take the route along the seafront and look at the old hotels.  I could write a book about these and I am sure somebody has, first we look at the Burlington.
Lynnie is taken with the lions outside of the Albany Lions Hotel, they have gold eyes, claws and tips to their tail.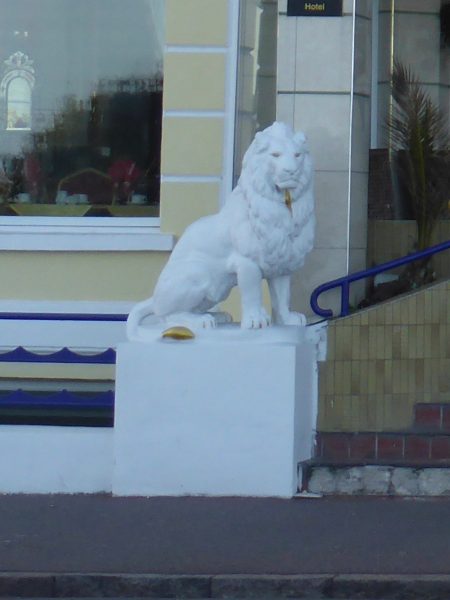 Further along is the Grand Hotel, constructed in 1875 this is a commanding building.  The hotel's website lists the great and good who have stayed there as Winston Churchill, Charlie Chaplin, Arthur Conan Doyle and King Constantine of Greece.  It also proclaims that "the Grand Hotel was built when the upper classes ruled the land and took their holidays by the sea".  What has changed? I can only assume that it is that the upper classes take their holidays abroad!
We carry on and turn into The Meads and look at St John's Church, this is an interesting church because the tower is all that remains of the original building, the remainder was destroyed by enemy action on 4th May 1942.  The tower was restored in 1960 and the chapel built alongside it in memory of those who gave their lives in World War I & II.
From here we wander back onto the Downs and return to Black Robin Farm CL to start packing up for our journey home tomorrow.  This has been a wonderful trip, great walking, lots of interesting things to see, a cracking CL and a chance to meet up with old friends.  It will definitely be a site we will return to before too long.
12th April 2017
[To follow our walk you will need Ordnance Survey Outdoor Leisure Map OL25 – Eastbourne & Beachy Head.]
© Two Dogs and an Awning (2017)