Today I am walking from Cholsey Grange CL with Crosby.  Lynnie has gone to stay with our daughter for a few days and taken Dexter with her.  I have plans for a couple of days of long walks and sadly he is not up to more than a few miles these days.  My walk today is a variation on a walk I have done previously, one of the beauties of walking around here is there is an extensive network of footpaths.

I set off from Cholsey Grange CL taking the driveway to reach Ibstone Common where I head diagonally across towards Hibba's boundary stone.
Passing the stone I continue diagonally across the common to woodland and join the Chiltern Way by a metal gate.
Turning left through the gate I follow the Chiltern Way descending on a chalky path through Commonhill Wood.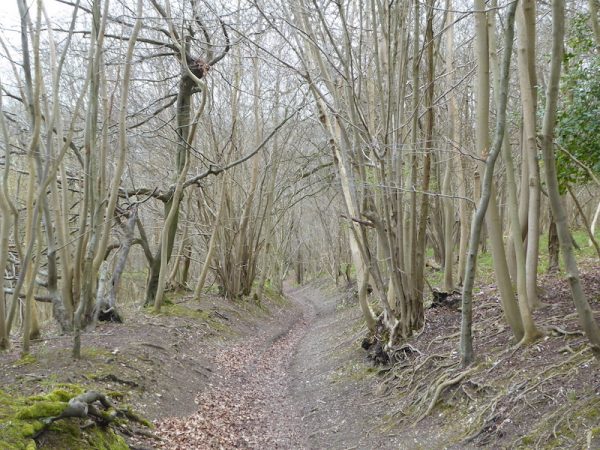 I ignore a turning on the left for the Chiltern Way and continue straight on downhill through the woods to reach open ground with fine views.
Following a track I soon reach a tarmac lane and follow this past the entrance to the Wormsley Cricket Ground and then past Wellground Farm I turn left along a marked footpath rising steadily into woodland.  After half a mile I meet a crossing of paths and turn left on a way-marked path.
I head downhill through trees to reach a field of pasture above Lower Vicars Farm. Once over the stile I cross the field to a tall gateway and then follow the path around the house to reach a gate leading to an estate road.
I turn right along the estate road and stay on this route as it heads gradually uphill to pass Upper Vicar's Farm. After going through a gateway I cross a road and enter a field of pasture and head towards a stile on the far side.
I am now at the top of the Aston Rowant National Nature Reserve.  There are stunning views as I enter the nature reserve and it is an ideal spot to sit on a bench and have some lunch.
This area became a nature reserve in 1958 and covers over three hundred acres and is a fabulous spot. However, there is the constant drone of the M40 motorway which was controversially cut through the downs in 1974.  This site was one of the four locations in the Chilterns where Red Kites were reintroduced in 1989, now these stunning birds are a constant feature on any walk in this area.
Resuming my walk I head downhill through the nature reserve and join a road at the entrance of Hill Farm. Heading down the road I soon reach the Ridegeway / Swans Way where I turn left to join this broad pathway.
When I have previously walked this route it has been summer time, so it is interesting to see it as it awaits the arrival of spring.  I stay on this route for close to two miles as it heads below Shirburn Hill.  On reaching a tarmac driveway I turn left to join the Oxfordshire Way as it heads by a sawmill and cat hotel and then becomes a steadily uphill pathway.
I stay on the Oxfordshire Way through a kissing gate to enter a field of pasture and continue along this route with the radio mast at Christmas Common in full view.
On reaching the road I turn right and stay on the road walking on the wide verge ignoring the first junction to my right I then take a left fork to pass a parking area and continue on the narrow lane to the right at the next fork.  This single-track lane, Hollandridge Lane, passes houses to reach the edge of the Forestry Commission land at Queen and College Woods.  At this point I follow the Oxfordshire Way signs on the left, leaving Hollandridge Lane to head steadily downhill into the woods.
The route is clearly marked with way-markers and arrows painted on trees.  Staying on the path through Fire Wood I reach a crossing of paths.  Here I continue straight on, to follow the path through Longhill Hanging Wood.
As the track leaves the trees it becomes an estate road passing Turville Park Farm and continuing along the bottom of the valley.  Reaching a crossing of paths I turn left to head uphill on a track between arable fields with fine views along the valley.
I remain on this track to an old metal kissing gate and go through to head across a couple of fields of pasture to reach Turville Heath.  I cross the heath towards the Barn Café and then turn left and walk along to the footpath that follows a flinty track as it descends steeply towards Holloway Lane.
After crossing the tarmac road I continue on across a field of pasture and cross another lane to pass through a small section of wood to enter another arable field.  This one heads steadily uphill to a stile, there are cracking views from here.
Continuing on the well-defined path I reach a kissing gate and then turn left to follow the bridleway, lined with Beech trees, towards Ibstone.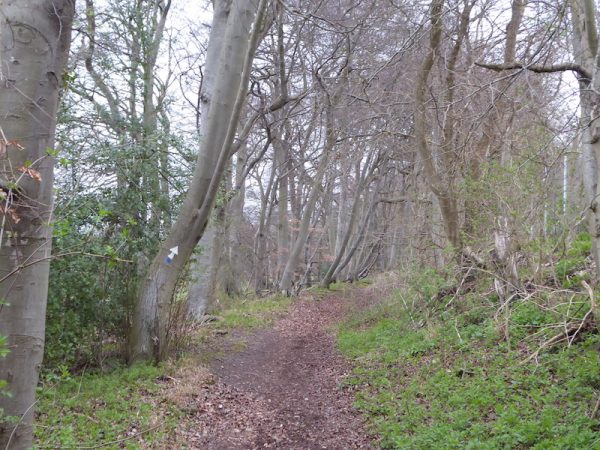 The path becomes a tarmac lane and continues on to Ibstone Common.  From here it is the short stroll back down the driveway of Cholsey Grange CL. My walk has covered close to thirteen miles and has had interesting variations in scenery.
To view this 13 mile walk on OS Maps Click Here
To follow my walk you will need Ordnance Survey Explorer Map 171 – Chiltern Hills West

22ndMarch 2019
© Two Dogs and an Awning (2019)