With both dogs limited to how far they can walk we are out for a short walk on the downs. Old age is catching up with Dexter, his arthritic joints won't let him go far and Crosby is still convalescing after emergency surgery to remove part of a rope toy which he swallowed causing an internal blockage.
Starting from the Silver Plough we turn left and then immediately left along The Green. We ignore footpaths to the right and left and stay on the lane to a bridleway opposite Glebe House.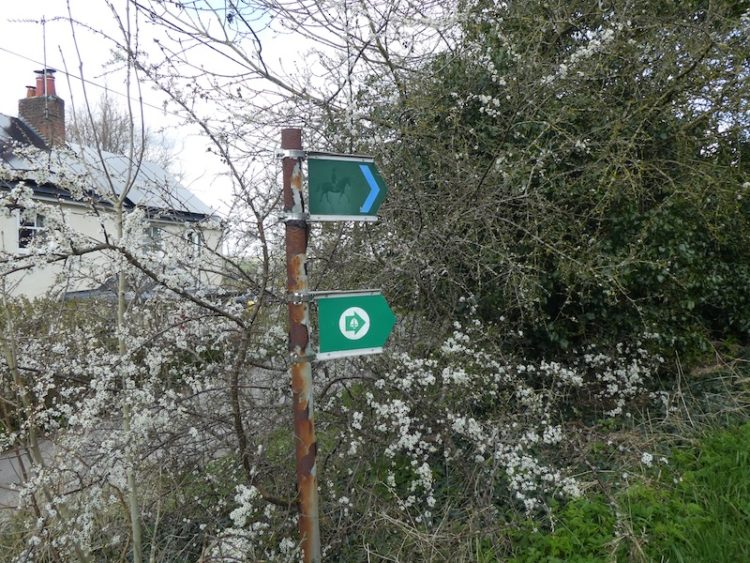 These days this path is single file, but when I was a nipper it was a broad track used a couple of times a day by Steve and Muriel Whitlock as they drove their small herd of Guernsey cattle from their fields on the downs to be milked in their farm yard along the Green.
In those days the Green and this track were always splattered with cowpats, so mudguards on the rear of a bike were a necessity! As well as being the route for cattle it was also the footpath leading to the "Cricket Field" where the village cricket and football teams played. This was where, as youngsters we came to play sport.
The recreation area in the Close was also used for football and cricket, however, this had the disadvantage of having to constantly retrieve balls from either Steve and Muriel's farmyard or Norman White's field. Both were amenable and there was no need to ask, in fact stiles were conveniently located to gain access.
At the end of the bridleway we turn right to walk up the track, Winterslow Hollow.
A few weeks ago this chalk track was slippery from all the wet weather, now it is easy going and as the path levels we pass the gates that Steve and Muriel's used to access their fields. Below is Pear Tree Farm, the bungalow with outbuildings they moved to when they left their village farmhouse along The Green, now known as Walnut Cottage.
We pass a footpath on the left and then within 10 yards turn left to join the permissive path running along the edge of the fence line. The fenced area to the right is enclosed to protect wild orchids.
The route continues along the edge of the field and we are accompanied by the constant sound of Skylarks. In these difficult times the sound of bird song helps lift the soul.
On reaching a way-marked footpath on the left, we turn and cross the stile to enter "Access Land". Areas designated on the Ordnance Survey map as access land are open for everyone to use with "freedom to roam". However, there are some restrictions, in particular between 1 March and 31 July dogs must be kept on leads of no more than two metres long to protect ground nesting birds.
Access Land is marked on Ordnance Survey 1:25000 maps as a shaded yellow area with yellow boundary. On the OS 1:50000 maps they are shown with purple banding.
From this area there are extensive views across Bottom Way and up towards Piccadilly Clump.
We follow a well-worn path across the top of the downland to reach a metal gate besides a stile and leave the access land.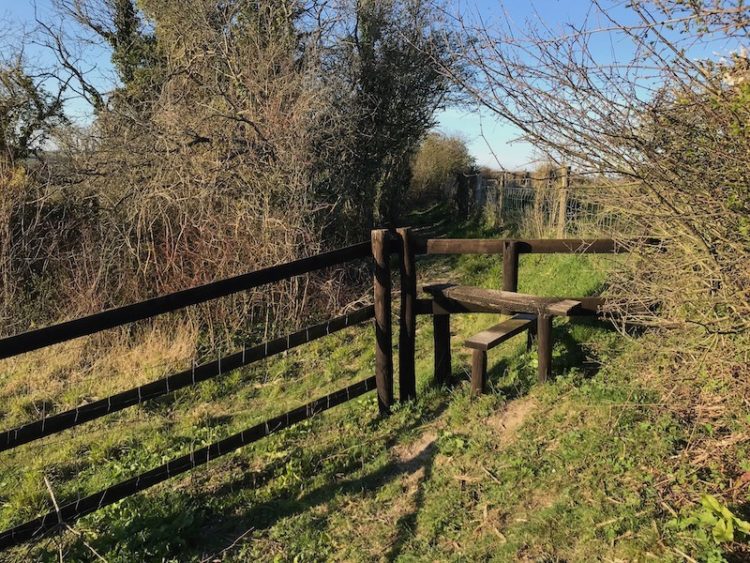 The route is now along a hedge-lined footpath to reach Winterslow Hollow. Here we turn right and retrace our route back to the village.
This short walk has covered two miles, which is just enough for both Dexter and Crosby at the moment.
You can view this 2 mile walk on OS Maps and download the GPX File Here
To follow our walk you will need Ordnance Survey Outdoor Explorer Map 131 – Romsey, Andover & Test Valley.
Additional Information
For more information on this walk including car parking, amenities, refreshments and detailed walking directions visit my associated Walking Moonraker website.
© Two Dogs and an Awning (2020)
All information on this site is provided free of charge and in good faith and no liability is accepted in respect of damage, loss or injury which might result from it. To the best of my knowledge the routes are entirely on public rights of way or within areas that are open for public access.
Walking can be hazardous and is done entirely at your own risk. It is your responsibility to check your route and navigate using a map and compass.