It's the final day of this tour. We have been away from home for a fortnight, by our standards this has been a short trip but Lynnie is keen to get back and tend to the garden and I have a few work meetings. Unusually we do not have another trip in the diary; so I am a bit twitchy. I like to know when we are off again before we get back home!

Lynnie is catching up with relatives today so once again it is just the dogs and I. As I am unsure when I will be back to walk in one of my favourite parts of the country I decide to head up onto the Quantock Hills and park, as is usually my way, at Dead Women's Ditch.
Leaving the car park we walk east on the track running parallel with the minor road. All of a sudden there are ponies everywhere and quad bikes and 4-wheeled drive trucks trying to round them up. I assume this is part of an organised activity, rather than a group of people deciding it would be fun to chase ponies around. Either way it is chaos so I decide to take a different route and turn left to cross the road and follow a path to reach the minor road that leads to Dowsborough Hillfort. This is a familiar route for the dogs, one they have walked many times. As usual Dexter is lagging behind slightly seemingly more interested in having a good sniff about than going for a walk.
Leaving the road on a bend we take the footpath on the left and then follow the path as it traverses the hill to reach the Iron Age Dowsborough Hillfort. Dexter appears to be limping, often this is a sign that he has a thorn in his paw, or a stone caught between his pads. So we stop and give his feet a good wipe before continuing on.
Within a couple of hundred yards he is limping again. Dexter is a wily old dog and I am sure there have been occasions when he has "thrown" a limp just to get out of a day's walking. However, as he is nine I am reluctant to push him if he is struggling. So at the crossing of paths we turn left to descend into Holford Combe.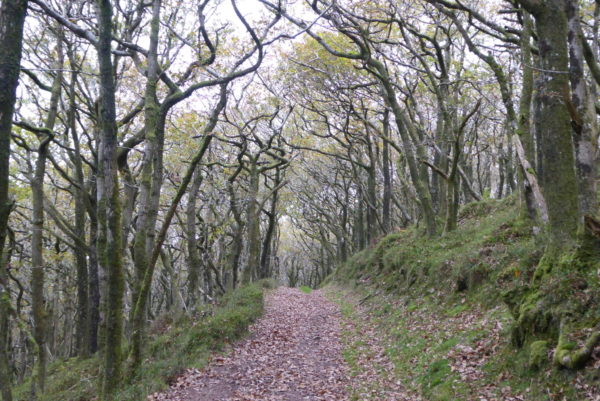 At the bottom I get Dexter to wash his paws in the stream to see if I can spot what is giving him gyp. Carrying on he is still not 100 per cent so I decide to take the shortest route possible back to the car and follow the path leading south, steeply up above Frog Combe and Lady's Combe.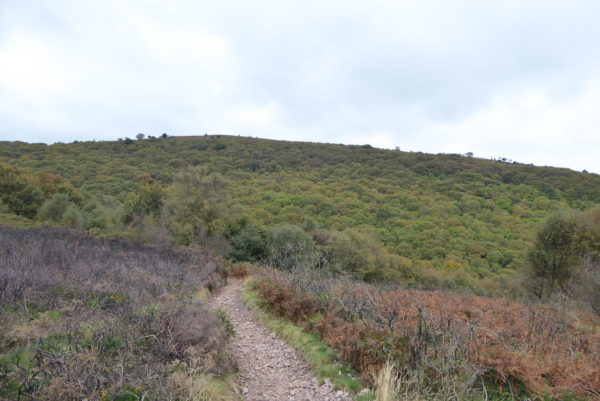 Emerging from the trees I continue to head up Frog Hill. From here there are great views of the hillfort behind me.
At a crossing of paths I turn left along the well-worn pathway and follow this route back to Dead Woman's Ditch. As we cover the last few hundred yards Dexter is trotting along happily. I don't know if it is possible for a dog to fake a limp, if it is then I am sure that Dexter has mastered the art.
We have only covered two and a half miles. I suppose it is far enough for the dogs to stretch their legs, but it is nothing like the eight to ten miles I had planned. We head home tomorrow so if Dexter continues to limp he will be off to the vet for a check up.
To view this 2.5 mile walk on OS Maps Click Here
To follow our walk you will need Ordnance Survey Outdoor Explorer Map 140 – Quantock Hills & Bridgewater
11th October 2017
© Two Dogs and an Awning (2017)