Today we are once again walking from the caravan site at Cholsey Grange.  A few weeks ago on our previous stay I did a walk with our daughter, Lolly and plan to do the same circuit but in the opposite direction.
We leave Cholsey Grange CL via the farm drive and cross the road to join the road that passes Hellcorner Farm, we continue straight on to join a signed bridleway as it enters trees.  As this track sweeps to the left we turn to the right to join a footpath that heads downhill to a stile.
After crossing the field we continue straight ahead, as we are about to enter the field a herd of frisky young cattle head towards us.  I am always cautious when walking through cattle and if there is an alternative route prefer to avoid any unnecessary risks.  Here the alternative is straightforward so we take the driveway as it heads southeast to meet a minor road.  We turn right and walk along the tree-lined verge of Holloway Lane turning left at a footpath along an old track.
The track starts by ascending gradually and then has a short steep section up to Turville Heath.  We continue across the heath to reach a lane where we turn right towards North End and then within a few yards take a footpath, opposite a bus shelter, leading down the driveway to a house.
Following the footpath we cross a couple of fields to reach a fenced track where we turn right and continue in a southwesterly direction.  Soon we reach a bench with cracking views down the valley.
Resuming our walk we head downhill and at a crossing of paths turn right to follow the footpath through the bottom of the valley passing Turville Park Farm and then entering Longhill Hanging Wood.
At the next junction of paths we turn right to join the Chiltern Way and follow the path through the trees towards Launder's Farm. After leaving the trees we continue besides arable fields and then take the Chiltern Way on the right which leads up to houses on the edge of Northend.  We continue on the Chiltern Way as it crosses a road and enters access land before heading downhill through the trees of Blackmoor Wood.
At a junction of two paths we turn right, still on the Chiltern Way and follow the way-markers as we cross three more fields to reach woodland.
The path climbs steeply through the woodland and then turns right up a chalk path, after going through a metal gate we turn right and head across Ibstone Common to return to Cholsey Grange.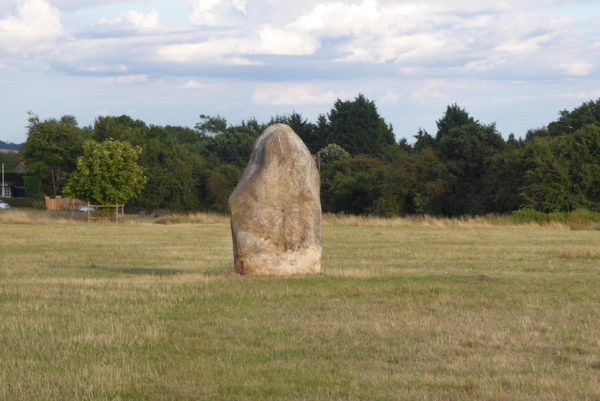 Our walk has covered just over seven and a half miles and on a warm afternoon has been just about right for the dogs.  It is time to settle down with a beer and get the maps out to plan a walk for tomorrow!
To view this 7 mile walk on OS Maps Click Here
To follow our walk you will need Ordnance Survey Outdoor Explorer Map 171 – Chiltern Hills West .
13thAugust 2018
© Two Dogs and an Awning (2018)
,