Yesterday was a moving day; fortunately I had looked at the weather forecast and taken down the awning the previous evening.  This is unusual because I normally reckon that as it will be up again within a few hours it doesn't matter if it is wet.  It started raining in the night and heaved down all the time we were packing up at Knockhill CL and then whilst travelling to our next site, Quarryhill CL just outside of Blairgowrie.

Luckily the rain eased shortly after our arrival and we were soon set up again.  This is a new area for us, which we are keen to explore and I am eager to get out on the hills.  So today we are in for a good trek starting from the Cally Car Park near Dunkeld.  When heading from Blairgowrie to Dunkeld, it is on the right shortly after passing the entrance (on the left) to Dunkeld Golf Club. It is not easy to find the first time but there is a post box at the entrance to the driveway.
We leave the car park going towards the entrance track and then follow the sign for Atholl Woods Path and Mill Dam.  At the crossing of tracks we turn left along a track for Mill Dam and Upper Hatton.
At a fork in the track we bear right towards The Glack and Upper Hatton, as it opens out there are stunning views.
We keep right when the track forks again, passing the entrance to Upper Hatton staying on the main track.  After crossing a stone bridge, we ignore the track leading to Birkenburn on the left.  When the track sweeps left at the entrance to The Glack we carry on through a metal gate.
Approaching Mill Dam we turn right to take the Upper Path to Loch Ordie this soon passes Mill Dam.  What a cracking view, I sense this is a phrase I will use frequently on this walk.
The track starts to climb and after crossing the Leddown Burn we turn right onto a narrow path.  Until now the going has been firm but this path soon becomes boggy in places.  We pass some old industrial machinery.
After crossing the burn again we have a choice to make, we can either continue on or make a detour to the left up a narrow trail snaking through bracken to climb Deuchary Hill.
We compromise, agreeing to climb the hill until either of us decides it is not for them in which case we will both turn back.  The path climbs diagonally through the bracken and as it opens out onto a well-worn path is becomes very steep for a short section.  I am ahead and sense Lynnie is not enjoying this section.  Reaching level ground we look to a summit to our right and see a deer grazing on the top.
The way is now over a section of boggy ground before climbing to the top of Deuchary Hill.  There are really stunning views from up here.
There is a cool breeze so we find a spot out of the wind to have our lunch.  Lynnie comments (ironically) that this is another day that I have failed to find a good picnic spot.
After our lunch we retrace our steps, taking particular care over the steep section.  I am never sure when it comes to such sections if Lynnie is smiling or grimacing.
Emerging through the bracken back onto the main track we turn left and follow it through a gate.  Soon we see Children's Loch in front of us and follow the path to reach a tarmac drive where we turn left.
The track provides a good route and on reaching the point where the roadway curves to Riemore Lodge we turn left to walk alongside Buckny Burn.
After passing through a gate we reach an area that has become a temporary base for workers carrying out maintenance on electricity pylons in the area.  We continue up the track, going through another gate to reach the edge of Loch Ordie.
We stay on the track as it heads anti-clockwise around the Loch.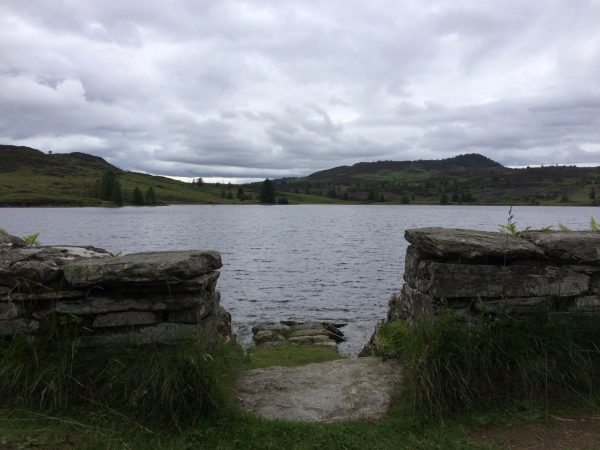 After passing Lochordie Lodge and crossing Dowally Burn on a stone bridge we turn left at a finger post for Dunkeld.
This main track follows the route of the Dowally Burn, this is a cracking bit of countryside.
The track leads through farm gates and when it swings right over a bridge we carry straight on through gates to pass Roar Lodge.  On the gates there were signs requesting dogs to be on leads because of free-range chickens and wildfowl.  Our approach to the Lodge is heralded by a cacophony of sound from the masses of Guinea fowl wandering about.
Exiting through another gate the track continues and soon Dowally Loch is in front of us.
The track passes the loch and continues on to Rotmell Loch.
Soon after we meet a junction of paths, around this area we can see evidence of beavers.  Apparently beavers have only moved into this area in the last couple of years, but from the look of the trees here they are pretty active.  These are very elusive creatures, I have never seen one and don't expect to whilst the dogs are with us.
We resume our walk by turning right at the junction and going through a gate. The forestry area to our right has been cleared and looks a bit of an eyesore, but nature will soon recapture this area and within a year it will look stunning.  We head through a gate and then pick up a track with yellow arrows which leads through another section of partially cleared forestry land.  After a further gate the path starts to descend.
The route now follows the track as is steadily descends and on meeting another track our route turns left signed to Polney Loch.  Walking along this track we get stunning views of the River Tay and cleared woodland that has become an amazing sea of foxgloves.
The track leads steadily downhill to reach a gate and then turns left along a road, this is one of General Wade's Military Roads, a network of roads constructed across Scotland in the 18th century.  We will walk on some of these roads later in the week so more on them then.
After a short section alongside the road, most of which has a wide verge, we turn left to go by the right hand side of Polney Loch.  We have seen plenty of Lochs on this walk but this one, probably the smallest, is stunning.  The water lilies are just coming into flower; in another week or two this will be a wonderful spot.
The path continues from the loch through woodland, we have to be extremely careful where placing our feet because the path is alive with young frogs, each about the size of a thumbnail.  There are thousands of them having just transformed from tadpoles.  The path goes past the back of Polney Sawmill and soon we are back where we started at the car park.
I cannot recall a more cracking introductory walk to a new area.  We have covered thirteen miles and had everything, stunning views, a really good climb, lochs and interesting flora and fauna.  I have a feeling that we are going to enjoy being in this neck of the woods.
To view this walk on OS Maps Click Here
To follow this walk you will need Ordnance Survey Explorer Map 379 – Dunked, Aberfeldy & Glen Almond
30th June 2017
© Two Dogs and an Awning (2017)