I have had a couple of busy days, lots of activity at Cholsey Grange and completing some work whilst admiring the view from my office, the awning. After a week of being on site I am well into the routine of welcoming new arrivals and I am enjoying riding around on Ted's mower! It's a pity the grass is not growing quicker!
One of the new arrivals has been our friends Richard and Trudie, we met them here last year and have since kept in touch. Last night we caught up over a barbeque and a few drinks. It was good to share our thoughts of various sites we have stayed on and chat about football. They are full of anticipation for the new season as their team, Norwich City, returns to the Premier League.

I have, of course, interspersed my activities with some walks and today Lynnie and I are going to repeat a walk I did a couple of days ago. We leave Cholsey Grange via the farm track to Ibstone Common and pass the cricket ground and pavilion.
We follow the tarmac lane passing Hellcorner Farm and on reaching the footpath that continues straight on from the lane we gradually descend through woodland.
To our left there is a very secure looking high metal fence, at a bend in the footpath we take the right fork that goes onto the downs with pleasant views of the valley.
We go down hill, cross into a field then straight over and through a gate on the other side into woodland. This brings us to Holloway Lane, which we cross to take the track directly opposite climbing up through woodland to arrive at Turville Heath.
There is a café in an old barn on the heath, we have heard good reviews but Lolly is cooking dinner this evening so we don't stop. Perhaps next year.
Our route continues straight across the common and on meeting a road we turn left. This is a quiet lane and we continue in a straight line.
After a while the road starts to descend and as it bends to the right we take a tarmac lane straight ahead to Turville Court. The footpath leading straight on crosses a couple of fields to join the Chiltern Way.
As we start to descend towards the Chiltern Way there is a stunning view of Cobstone Mill across the valley. Lynnie is quick to put her new camera to work.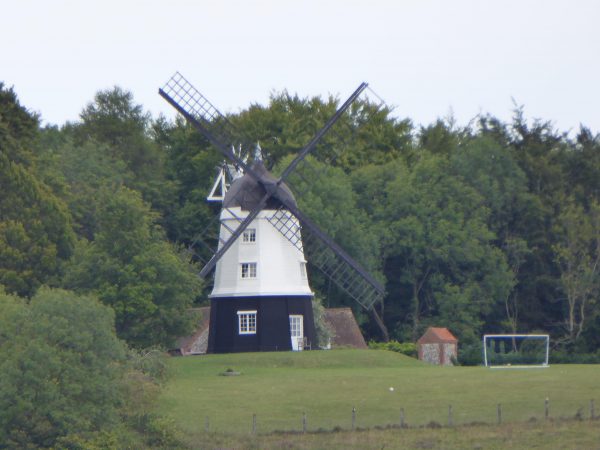 We wander into Turville and then follow the Chiltern Way as it crosses Turville Heath to Fingest. At The Chequers pub we turn left and walk along Chequers Lane, in about half a mile we take the footpath on the left that stretches along the bottom of the valley. This has become a familiar path taking us through Twigside Bottom where at the crossing of footpaths we turn left and uphill to return to Cholsey Grange.
This is a fine wander covering almost 7.5 miles. It has been a muggy day and there is just time for a quick shower before heading to Lolly and Toby's to celebrate Lynnie's birthday.
16th August 2015
[To follow our walk you will need Ordnance Survey Explorer Map 171 – Chiltern Hills West]
© Two Dogs and an Awning (2015)