When I took Crosby out early this morning he was limping.  Initially I thought he had something stuck in one of his paws, I had a good look but couldn't see anything.  However, on closer inspection I noticed he had tar from yesterday's walk stuck to his pads so we have enjoyed a leisurely morning around the caravan whilst he rests up.

After lunch we go for a short stroll, heading over to the Old Racecourse and picking up the Offa's Dyke Path to head south.  My intention is a brief walk but Crosby is now looking very lively and his limp has disappeared so I continue along the national trail heading through the trees to reach a driveway leading to a minor road at Tyn-y-coed.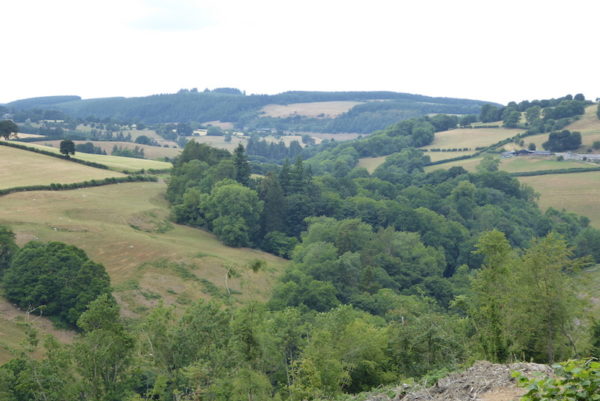 I turn right over a bridge, Crosby remembers this spot from a few days ago and is keen to paddle in the stream.  We head off again along the minor road, soon taking a turning up a road on the left (still on the Offa's Dyke path).  This road heads steeply uphill to a T-junction where we turn right and then quickly take a left along a tarmacked lane leading from Pentre-shannel to Trefonen.  Walking along this lane there are fine views across the valley.
In Trefonen I walk through the village to reach the Barley Mow pub, there are a couple of chaps sat outside having a smoke during half-time of the World Cup Final.  There was a time when I would have been glued to the TV to watch the match, but nowadays my interest in football has waned significantly and I would much rather be out walking on such a lovely afternoon.
I head out of Trefonen on the Treflach Road, there is no pavement but being a Sunday afternoon there is not much traffic, however, I am still relieved after half a mile to reach Pit Lane on my left. I take this minor road and wander along looking at the hedgerows.  At a junction I turn left following signs to Gronwen, Woodhill and Oswestry.
After a short while I reach another junction, this time taking the road signposted to Woodhill and Oswestry. I stay on this lane until I reach a junction where I turn left towards Trefarclawdd and Trefonen.  Very soon I reach another junction and turn right down Chain Lane leading to LLwynymaen and continue straight on at the next junction. On reaching another junction I cross and join the pavement on the opposite side and turn right towards Oswestry. After just over half a mile I turn left following a sign to the Racecourse.  I stay on this lane, ignoring turnings to the left and right and as I head uphill I pass the reservoir below Oerley Hall.
From here I continue uphill to the Old Racecourse.  There are fine views to my right over the valley.
On reaching the turning for Domo CL I turn left and walk along the lane to the caravan.  My little stroll has ended up covering eight and a half miles. Crosby has not shown any sign of his limp and looks to be back to full fitness.
To view this 8 Mile Walk on OS Maps Click Here
To follow our walk you will need Ordnance Survey Explorer Map  240 – Oswestry

15th July 2018
© Two Dogs and an Awning (2018)